Al Alwani Attar Makkah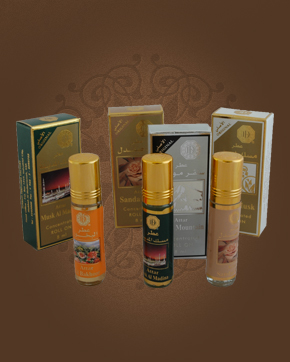 Al Alwani Attar Makkah
Concentrated Perfume Oil 8 ml
Out Of Stock
Description
Oriental perfume bag. Its advantage is its small size (8 ml of perfume oil) - so it fits in a small handbag. In addition, perfume is very easy to apply using a ball in the bottle cap. So you can always have your favorite fragrance with you.
The aroma of intense patchouli, which is immediately softened by sandalwood with oriental spices, headed by nutmeg, cinnamon and cloves. Hints of strawberries with vanilla sugar and a touch of caramel appear here. Conclusion include patchouli with incense and vanilla.

Customer Reviews (2)
Al Alwani - Attar Makkah - the wonderful aroma of the Far Orient. I mainly feel incense, honey and sandalwood. Those who like the scent of incense will be thrilled. (October 6, 2015 - Renata Š.)

ATTAR MAKKAH - a beautiful, intense patchouli fragrance, which, like a wave of a wand, is replaced by wood and spices in a snap, with cloves, cinnamon and nutmeg in the forefront. There is also incense and vanilla, great stamina. (June 21, 2015 - Miloslava P.)

Have you tried one of our perfumes?
Let us know
how you like it!
You might also like