Ard Al Zaafaran Mahasin Crystal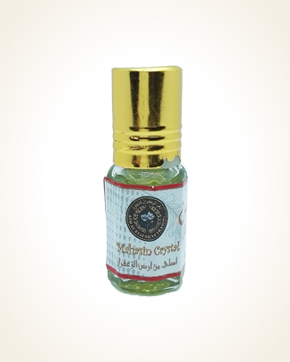 Ard Al Zaafaran Mahasin Crystal
Concentrated Perfume Oil 3 ml
In Stock
Concentrated Perfume Oil Sample 0.5 ml
In Stock
Description
The interplay of fruity tones with flowers opens the feminine fragrance full of the smooth warmth of honey-sweet freesia, intoxicating jasmine and the delicate beauty of lilies of the valley.
She plays with flowers of creamy sandalwood with delicious gourmet vanilla and velvet covered with ambergris.
A pocket pack of oriental perfume, the big advantage of which is the small size (3 ml of perfume) so that it fits even the smallest handbag or pocket. In addition, perfume is very easy to apply using a ball in the bottle cap. So you can always have your favorite fragrance with you.

Customer Reviews (3)
When I first applied Mahasin Crystal, I was a little scared. However, after a while, a sonata was played for my demanding olfactory cells, which pleasantly surprised me. By connecting all the ingredients, a few cm above my skin, a very special, invisible veil levitates, and when I start snuggling into it in the morning, it is clear to me that the whole day will also be exceptional. In fact, all these tried and tested perfumes have a very positive effect on me. Thank you for the beautifully tuned moments with these perfumes. (03/11/2020 - Markéta V.)

So this was a goal. I avoided this fragrance Mahasin Crystal and finally received it as a gift for an express quick order. I feel clean. But one where the young woman leaves traces. It is slightly erotic thanks to honey and nevertheless attracts with its floral tones. I can't smell lily of the valley and vanilla here. One of the best for me and yet hidden in such a small ass. Bravooo. Well thank you. Supplement to the Mahasin Crystal fragrance. I have already mentioned how the scent reminds me and please Jimmy Choo Woman. Yes, that's just the oil. I'm applauding once. Thank you (10/01/2020 - Dominika J.)

Mahasin Crystal ... Fruity fragrance, beautiful fragrance, I smell honey, jasmine witches, then it is alternated with lily of the valley, I like sandalwood here and divine vanilla ... Thank you, thank you ... (20.1.2020 - Jana C.)

Have you tried one of our perfumes?
Let us know
how you like it!
You might also like