Ard Al Zaafaran Mahasin Crystal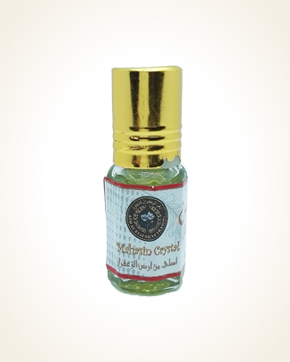 Ard Al Zaafaran Mahasin Crystal
Concentrated Perfume Oil 3 ml
In Stock
Concentrated Perfume Oil Sample 0.5 ml
In Stock
Description
The interplay of fruity tones with flowers opens the feminine fragrance full of the smooth warmth of honey-sweet freesia, intoxicating jasmine and the delicate beauty of lilies of the valley.
She plays with flowers of creamy sandalwood with delicious gourmet vanilla and velvet covered with ambergris.
A pocket pack of oriental perfume, the big advantage of which is the small size (3 ml of perfume) so that it fits even the smallest handbag or pocket. In addition, perfume is very easy to apply using a ball in the bottle cap. So you can always have your favorite fragrance with you.

Customer Reviews (1)
Mahasin Crystal ... Fruity fragrance, beautiful fragrance, I smell honey, jasmine witches, then it is alternated with lily of the valley, I like sandalwood here and divine vanilla ... Thank you, thank you ... (20.1.2020 - Jana C.)

Have you tried one of our perfumes?
Let us know
how you like it!
You might also like