Al Rehab Tulip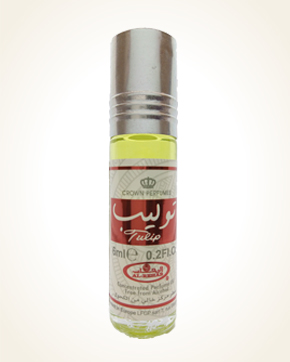 Al Rehab Tulip
Concentrated Perfume Oil 6 ml
In Stock
Concentrated Perfume Oil Sample 0.5 ml
In Stock
Description
With a light floral touch, the Tulip opens - it's a tulip freshness with powdery sweet undertones, it's fresh green mown grass with still shimmering dewdrops, and it's a cascade of honey-freesia colors.
The gentle embraces of musk sensuality are bound by the echoes of the earth and moisture supplied by the vetiver.
A pocket pack of oriental perfume, the big advantage of which is the small size (6 ml of perfume) so that it fits even the smallest handbag or pocket. In addition, perfume is very easy to apply using a ball in the bottle cap. So you can always have your favorite fragrance with you

Customer Reviews (1)
Tulip. I hesitated over the purchase. Well, I can say that it is my favorite number 3. Strange, you don't feel it on other women, I don't know the smell like that, so I feel unique. Thank you, (20.08.2020 - Dominika J.)

Have you tried one of our perfumes?
Let us know
how you like it!
You might also like