Al Rehab Hams Al Warood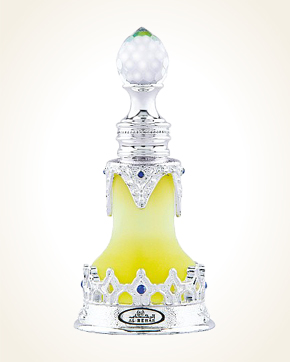 Al Rehab Hams Al Warood
Concentrated Perfume Oil 20 ml
Out Of Stock
Concentrated Perfume Oil Sample 0.5 ml
In Stock
Description
The cold-sounding purity of soap echoes, bound by floral strokes, are the first fragrance touches presented by Hams Al Warood.
The sweet tones of many hyacinths are in harmony with the innocence of the white lilies, opening their arms to the slightly sweetish lure of honey tones.
The floral embrace continues with the luminous scent of lilacs, complete with chords of white-blooming jasmine, to which a bitter trace of skin is strangely flowing.
The gentle aroma of mimosa gives way to Bulgarian roses, the nobility of which complements the sensual softness of musk.

Customer Reviews (4)
Hams al warood. At first I felt the wood. But it was a mistake. It is not in the composition. The magic of this perfume has only recently been revealed to me. Suddenly I'm a fan of serik and hyacinth. Beware, it's nothing to lose your breath. There is also a skin here, and it gives it such a mysterious pattern, as if unisex. Lilies and jasmine bring it all to purity. Someone can smell the soap, cooler and thus fresh. It's my number 1. By the way, thank you for the quick delivery of the package, because I feel like a small child when something comes from you. Patience remains behind the door. And those gifts. It is beautiful. Let it go. (09/20/2020 - Dominika J.)

Hello Mrs. Jano. I want to thank you for the gifts you send for orders. I fell in love with the scent of AL REHAB HAMS AL WAROOD. I love soap perfumes, they are so clean and beautiful. It is really a fragrance that I fell in love with after a long time. Have a nice day, best regards (30.8.2019 - Andrea J.)

Al Rehab Hams Al Warood, I tried the sample it is a lot of soap and just really rub a little on my wrist, stamina unreal, the smell of purity, but unfortunately for me after a moment of headache, for me too strong .. (23/05/2019 - Marie with.)

Beautiful sunny day in Anabis. I must praise the scent of AL REHAB HAMS AL WAROOD. This is something magical. I postponed the formula on my first rehearsal, but then returned to it, the smell was so cold, cool, hot on hot days that I drove for it yesterday. They are cool flowers, they are soft, refreshing and stamina unreal. Thank you. (05/07/2018 - Lenka G.)

Have you tried one of our perfumes?
Let us know
how you like it!
You might also like