Al Haramain Musk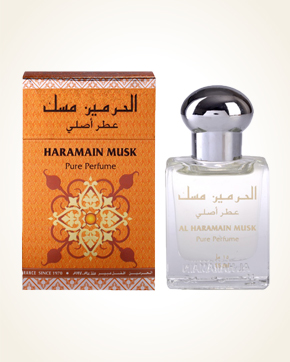 Al Haramain Musk
Concentrated Perfume Oil 15 ml
In Stock
Concentrated Perfume Oil Sample 0.5 ml
In Stock
Description
The floral, fruity woody scent that blends with the musky clouds of musk is a pleasantly fresh perfume for both men and women.
The opening interplay of roses and geranium with citrus bergamot, delicious oranges and bitter lime with musky sensual undertones is a juicy caress.
Floral chords also show the delicate beauty of orchids with a uniquely spilling iris. The flowers are accompanied by rare woods dominated by cedar, sandalwood and cashmere wood.
Musk with its gentle line is also shown in conjunction with velvet amber and soap-sounding patchouli at the end.

Customer Reviews (1)
Hello, thank you for the scent, everything went fine. I like musk most. Musk Haramain is like fresh air somewhere in the Alps, and you will miss a wave of flowers, but just a little to keep the scent so cold. A little bit of wood appears, and then musk again, is hilarious and has super stamina. (5/12/2018 - Petra S.)

Have you tried one of our perfumes?
Let us know
how you like it!
You might also like