Al Haramain Junoon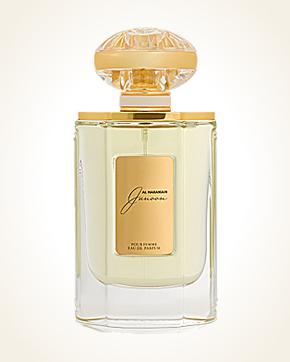 Al Haramain Junoon
Eau de Parfum 75 ml
In Stock
Eau de Parfum Sample 1 ml
In Stock
Description
The elegantly intoxicating perfume shows the richness of the flower concert, whose individual keys are irreparably attracted to their gillers.
The refined composition begins with a rose from Grasse, played in honey chords, blending its grandeur with jasmine. Powder veil conceals a creamy ylang - ylang with unique, woody fruit undertones of irises.
The captivating intensity of flowers alternates with the vanilla line in all its nuances, changing from a delicious gourmet through a dusty to a fluffy cloud of tenderness, backed by another sweetish chord, bringing warm-sounding tonka.
The accents of spicy sensuality pervade the hints of smoky chords of the vanilla velvet heliotrope with the glare of a sparkly clear, stroking musk.

Customer Reviews (2)
Junoon breathes with the refinement of "old and high-quality fragrances", I would compare it to the "80" Guerlains ... :-) Junoon is a rich fragrance of flower pugetes that develops into the powdery shades of luxury soaps. Is beautiful and stamina ??? - Well, it does not end, lasts and lasts ... Thank you for beautiful gifts and handwritten wishes that you will never forget to join :-), then it is a day fragrant and nicer ... thank you again. (11/28/2018 - Karolína V.)

Today I received a package with several fragrances and also with this splendor. I would like to thank Mrs. Janicka who recommended this beauty to me, it is a truly delightful and luxurious fragrance, I think I will buy one more, because this fragrance is nothing I have yet, most of the fragrances on me after a while but I sprayed this scent on my neck and hair and I feel it immediately with every move of my head, so this scent doesn't just surpass anything, that's a gem. Thank you very much, this is the coolest store I know.This is the most beautiful aromatherapy that I can imagine, just close your eyes and feel all the beauty. Dekujiiiiiii ❤ (Jun 8, 2018 - Helena K.)

Have you tried one of our perfumes?
Let us know
how you like it!
You might also like