Rasasi Zodiac Capricorn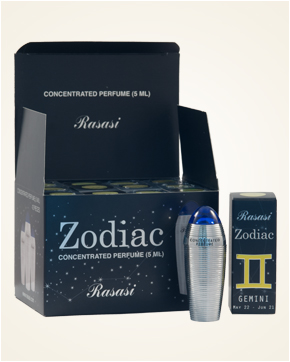 Rasasi Zodiac Capricorn
Concentrated Perfume Oil 5 ml
Out Of Stock
Concentrated Perfume Oil Sample 0.5 ml
Out Of Stock
Description
Capricorn (22.12. - 20.1.)

Zodiac Collection is a very beautiful set of 12 oil perfumes, CPO 5 ml, hidden in a small silver case. You can smell different scents for every month's sign.
Beautiful combination of black currant and tiny white flowers of jasmine, creates a very sensual scent. The continuation of this attraction is carried in the gourmet tones of vanilla, the eventual great sweetness of which is moderated by the herb-spiced patchouli, which has a green earthy tone in the background.

Customer Reviews (3)
Capricorn Zodiac perfume is a mildly soapy, tender sweet perfume with jasmine and vanilla. Black currant and tiny white jasmine flowers create a sensual scent. This perfume has excited me, it will unfold amazingly. An ideal choice if you like sweet, girlish perfumes. (20/08/2014 - Blogerky.cz)

Another soap fragrance, this time pure and cool, non-sweet, almost forest, with green herbs and a layer of soft, dampening touch. You can also feel the flowers, soothing (rose) and strict (lavender), and at the end also dairy sandalwood (6.1.2014 - Dzona)

Capricorn - I'm excited about "my" Zodiac, it fits me amazingly! Beautiful fragrance, almost mystical ... Wonderful, beautifully processed orient with absolutely amazing stamina. For me, the streets of hot Cairo with silent tucked dark shops ... Flowers, roses, velvet iris, royal lilies, sandalwood, bitter labdanum and leather, smoke of resins, a little thick dark honey and the cool breath of incense in a darkened temple. Price x performance ratio more than great! (09/09/2013 - Renée H.)

Have you tried one of our perfumes?
Let us know
how you like it!