Rasasi Zodiac Cancer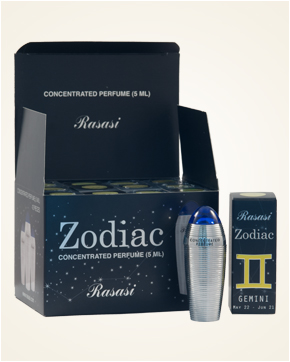 Rasasi Zodiac Cancer
Concentrated Perfume Oil 5 ml
Out Of Stock
Concentrated Perfume Oil Sample 0.5 ml
Out Of Stock
Description
Cancer (22.6. - 22.7.)

Zodiac Collection is a very beautiful set of 12 oil perfumes, CPO 5 ml, hidden in a small silver case. You can smell different scents for every month's sign.
Nice and pleasantly echoed lavender echoes will accompany you throughout the fragrance.
The geranium with its sweet pink note will enhance the richness of the composition of the individual essential oils. There is a finely spiced wool with cinnamon and its connection with cedar wood. The magically appealing way of fragrant seduction is caressed by the gentle ambergris with warm, powdery undertones. The tantalizing lure continues with the herbal-spiced sweetness of patchouli, and it exudes freshness in the pleasantly smelling white moss with echoes of the forest.

Customer Reviews (5)
I'd almost forgotten about the Zodiac Cancer. At first I perceived him as a man's perfume. Cedarwood on damp mossy ground, smoldering patchouli blending with the freshness of citrus. The scent evoked memories of my dad, and if he were here, I would give him this perfume. Fragrance worthy of a self-confident man who is not afraid of his polarity, the feminine side, because at the end of perfume softens and excel lavender and honey ambergris. So certainly women will also be delighted. Everybody will certainly develop differently. For me - very beautiful ... (4.3.2017 - Lenka S.)

Zodiac Cancer CPO - amazing unisex, non-violent, elegant, suitable for all-day use and with excellent durability. I would take it as a family fragrance in a larger package, I love lavender. (February 8, 2015 - Marie S.)

Thin mixture of dark woods, vetiver and resin with light gourmet tuning. Think of it as a creamy sweetness with a little compote. At the same time, it tingles on its tongue like a freshly grated nutmeg. When the sharpness fades, you will notice musk. The aroma is soft, but woody masculine (6.1.2014 - Dzona)

Rasasi Zodiac Cancer - candied cedar wood and candied cypress fragments are richly mixed with rich ambergris. The sweetness gives way to the citrus headed by the fruits of the orange tree and perhaps its flowers. As the fragrance is initially freshly cheerful, it settles into a dust-dry form of pleasant long hold. (Nov 20, 2013 - Simona J.)

Zodiac Cancer - CPO, awesome! Finally, I feel lavender, I've been searching for perfumes for years. I highly recommend women who like the scent of lavender. Neobanujete! (11/09/2013 - Magda A.)

Have you tried one of our perfumes?
Let us know
how you like it!
You might also like