Rasasi Zodiac Aquarius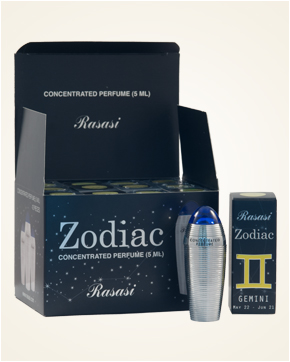 Rasasi Zodiac Aquarius
Concentrated Perfume Oil 5 ml
Out Of Stock
Concentrated Perfume Oil Sample 0.5 ml
Out Of Stock
Description
Aquarius (21.1. - 19.2.)

Zodiac Collection is a very beautiful set of 12 oil perfumes, CPO 5 ml, hidden in a small silver case. You can smell different scents for every month's sign.
The introduction of perfume is carried in orange flowers and colorful hyacinths, which embrace tangerines and lemon pulp. Fruit chords continue with Florida orange and black currant. Additional flowers are added, ylang - ylang, nostalgic tones of carnation, jasmine and lily of the valley. The woody dry vetiver spells with its highness of roses and, combined with the soft sensuality of musk and sandalwood, creates a wonderful scent. Cedarwood and balsamic tones can also be seen easily.

Customer Reviews (3)
Hello Mrs. Lenko.Thank you very much for the gift packed with my order.Zodiac Aquarius is a fragrance that immediately got me.Wonderful scent of soap, intense and full of freshness. Hana T.)

If you like soap scents, this one will delight you, how feminine and elegant, without looking old-fashioned. Somehow it filtered out typical soap nostalgia to sadness. There was a pleasant soap scented with sandalwood, coriander and a little sweet fruit that slowly cooled to a metallic citrus tone. (Jan 6, 2014 - Dzona)

Aquarius, although a winter sign, is built entirely on hyacinths and spring flowers, evoking a pleasant feeling of awakening nature and the first rays of sunshine that begin to heat. The creamy sweetness is as silky as the pollen of the first flowers. (11/16/2013 - Simona J.)

Have you tried one of our perfumes?
Let us know
how you like it!