Yankee Candle Coconut Splash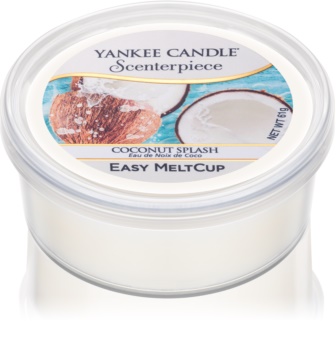 Yankee Candle Coconut Splash
Wax for Electric Wax Melter 61 g
Out Of Stock
Description
Fragrance: Coconut Splash
Coconut refreshment
A refreshing and pure aroma of coconut and other exotic fruits with a touch of natural tropical sweetness. Top: watermelon, coconut water, mango. Heart: coconut, coconut milk. Basis: vanilla and sandalwood.
Design: Scented wax for electric aroma lamp 61 g
Scenterpiece Easy MeltCup Wax Cup.
It quickly dissolves and scents the whole apartment.
Burning and scent time: up to 24 hours
Dimensions: diameter 7.9 cm, height 2.8 cm
Weight: 61 g
Tips:
Dissolves exclusively in the aroma lamp Scenterpiece, which plugs into the el. plugs.
The aroma can be changed by simply removing the cup from the aroma lamp without having to wait for the wax to solidify.
The cup can be used more than once.
Never leave the melting wax unattended near lightly flammable objects or within reach of children or pets.
About Yankee Candle
Yankee Candle is the world's best known manufacturer of scented candles and indoor scents.
Yankee Candle smells as pleasant as the real flowers, fruits, spices, place or experience they were inspired to.
Yankee Candle - these are the most varied authentic fragrances that will not disappear even with time and will scent your interior for a long time until the last flash of the flame.