Rasasi Zodiac Virgo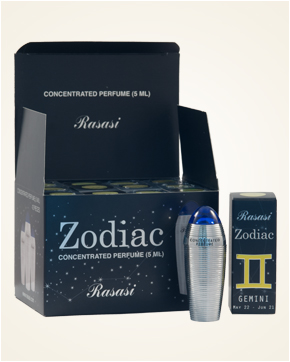 Rasasi Zodiac Virgo
Concentrated Perfume Oil 5 ml
Out Of Stock
Concentrated Perfume Oil Sample 0.5 ml
Out Of Stock
Description
Virgo (23.8. - 22.9.)

Zodiac Collection is a very beautiful set of 12 oil perfumes, CPO 5 ml, hidden in a small silver case. You can smell different scents for every month's sign.
A very captivating perfume, with lavish freesia and slightly fresh bergamot, spreads out into a fruity embrace of grapefruit and blackcurrant. Tones of rose and gentle violet together with the lotus flower creates refinement and elegance. Seductive sandalwood and cedar wood lend a warm embrace to the tones of pineapple, and the entire composition is closed with a sinfully sensual, white musk.

Customer Reviews (2)
Fruit jelly with roses full of varied nuances of ripe fruit flavors, as only nature can do, not chemistry. The smell is changeable, elusive, charming, as if sailing gracefully in the ingredients they had prepared for her. From woody citrus and velvety soft osmanthus with typically apricot aroma to a very authentic currant, then turn to citrus, now with roses and violet. And so. The aroma is rather fresh all the time, sweetness is only natural (6.1.2014 - Dzona)

Virgo (here I have ascendant :-)). This CPO could be characterized by one sentence: sweet flowers on a fresh fruit basis. Dot, end of description. In addition, a vigorous virgin that gives a clear direction in which the fragrance will evolve. The parade begins with a masterfully connected essence of fresh grapefruit and currant, followed by a parade of flowers headed by a delicate rose hand in hand with an aromatic pineapple. The crowd alternates with a lotus flower, which adds a subtle soapy footprint and a whiff of water and raises perfume to elegant heights, where it meets the smooth musk and creates a sensually captivating composition. (I feel that form with El Nabil's Musk Silver, but in this case Rasasi is a more mature work, probably as a sample vs. a final product). (2/11/2013 - Andrea Ž.)

Have you tried one of our perfumes?
Let us know
how you like it!