Viali Intense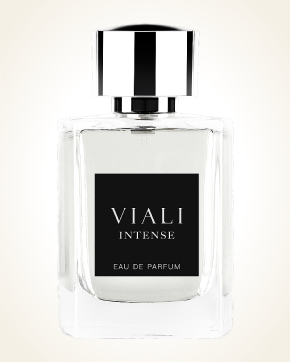 Viali Intense
Eau de Parfum 100 ml
In Stock
Eau de Parfum Sample 1 ml
In Stock
Description
Uniquely seductive, uniquely fresh and uniquely irritating - this is the intense men's fragrance waiting to be discovered. So enter the whirl of exclusive ingredients and enchant yourself and your surroundings.
The juicy green apple combines its fruit key with grapefruit, a slightly bitter bergamot and sour fresh lemon, into which the aromatic herbal tones of juniper slowly along with oriental cardamom slowly dissolve.
In herbal tantalizing chords, we continue with the rich green echoes of the woody captivating cypress, slowly passing into the depths of the forest, represented by the bitter chypre echo of oak moss with touches of skin and smoke in the background.
Chords of sophisticated lavender with a noble wave of majestic ambergris and sweetly earthy patchouli, repeatedly shimmering with citrus, come to the scene on the trees.

Customer Reviews (2)
Hello, I pushed Viali Intense into my husband's shelf about 14 days ago, where the bathroom smells of you and waited for what would happen. Week - nothing, until last Wednesday he calls me from work that a colleague allegedly asked (this has only happened once, that he was approached by a man that he smells and also with a scent from you, Al Raaqi) what does it smell like very nice ... :-) We returned to the scent at home, I'm excited about it myself, it's so cool and it's great for my husband, so I'm really happy that it smells and I know what will make him happy with the next package . Thank you for all the presents you sent me, hold on at this special time and stay here with us, your scents are magical! (03/05/2020 - Veronika K.)

Intense opens with the scent of grapefruit and tangerine, which to my delight lack the typical pungent of citrus. The creators probably used citrus essences without terpenes, which are among the finest perfume ingredients. In addition to the initial aroma, which persists in the aroma all the time, gradually added lavender and delicate flowers, which I can not identify ... maybe they are rather meadow herbs. Everything is subtly spiced with fresh coriander and wrapped in a soft scarf of leather and ambergris. As a purely men's definitely does not affect me, I would have included it among the unisex. The whole composition is sensitively balanced so that the aroma is refreshing and at the same time full and deep. The sweet citrus captivated me so much that she was a hot candidate for my scent (I hope not so hot :-) for years. (03/25/2020 - Petra P.)

Have you tried one of our perfumes?
Let us know
how you like it!
You might also like