Khadlaj Urban Juice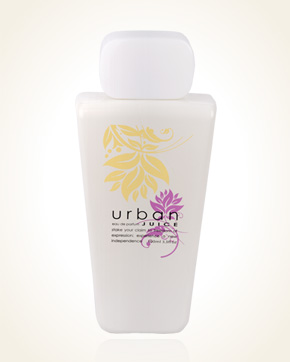 Khadlaj Urban Juice
Eau de Parfum 100 ml
Out Of Stock
Eau de Parfum Sample 1 ml
Out Of Stock
Description
A fragrant fruit cocktail with powder tones awaits you in the new Khadlaj.
The introduction of the aroma belongs to the yellow melon with its pineapple touch, ripe bananas, cherries and all immersed in the powdery sensuality of musk. The scent of coconut and the unmistakable vanilla fragrance appear, combining everything into a pleasant, light fruity aroma that is perfect for summer days.
A soft caress of cream, finely grated chocolate, sprinkled with a pinch of saffron and a sweetened drop of honey will give us a gentle caress.

Customer Reviews (2)
Khadlaj - Urban Juice - after a beautiful warm embracing honey Ighra I was looking for something lightened for summer days and I found. Urban Juice is like a summer fruity caress, but without the exaggerated sweetness that I feared after reading the ingredients - unnecessarily. At first I feel a lot of pineapple and melon, but after a while the creamy veil gives the smell a softness and a pinch of saffron at the end just completes an imaginary work of art. I am really excited, moreover, the smell is very clear all night long throughout the day, so even the stamina is perfect. Thank you very much for a wonderful fragrant experience! :) (16/06/2016 - Anna K.)

After reading the ingredients, I was worried that Urban Juice would smell like fruity multivitamin juice. Already the first smell surprised very pleasantly. I can't help but feel the cinnamon and clove the next day on my clothes. I smell like dry, warm, warm. Vanilla cocktail with cinnamon and cloves and cream. Fruits added subtly, probably the most yellow melon with pineapple. It certainly deserves praise. (9/29/2014 - Martina M.)

Have you tried one of our perfumes?
Let us know
how you like it!
You might also like