Al Haramain Tohfa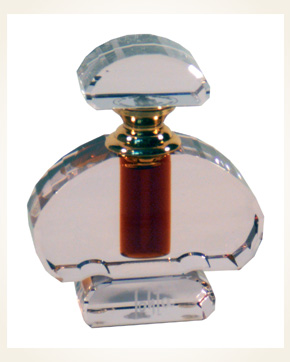 Al Haramain Tohfa
Concentrated Perfume Oil 12 ml
Out Of Stock
Concentrated Perfume Oil Sample 0.5 ml
Out Of Stock
Description
Pleasantly and harmoniously created perfume hidden in a pink crystal flask, in a leaf-like shape, opens the door of Arabic delicacy, which you will see after about half an hour, from applying a few drops on the skin.
After a more difficult introduction with a hidden oud behind the curtain, it is obvious subtlety with a slight gust of rose, perhaps even with sanatal, but it just flashes around and vice versa comes the game of resin with a warm scent of clove and cardamom.
Now comes anise with a pinch of vanilla, reminiscent of Christmas gingerbread.
It is hard to believe that it is the same fragrance you originally applied.
The fragrance winding is so different, one might say that two different perfumes are used, and yet it is one and the same that wants to appear in all its fragrant phases that give you a truly masterful impression of the Orient.
This fragrance combines beautifully with the woman, but also with the man.

Customer Reviews (3)
With a longer distance I see the smell as a true drink of love - I write a review when I smell good. But you cannot resist this beauty and completely match the vintage fragrances of the famous perfume Maisons !!! (7/24/2014 - Sylva F.)

At Tohfa it's amazing that I can smell good and she (or he) expands to an even greater breadth and variety than from the sample - it's like looking at a picture on a reproduction or close up in a gallery where one can see every move brush. And the bottle surprised me how beautiful it is and how heavy it is - you can not carry it normally in your handbag :-) (8.4.2013 - Alena H.)

After trying the second Guerlain fragrance, your Christmas gingerbread Tohf flashed right in my head, and Mr. Wasser doesn't even have that ... it's just something wonderful. Not to mention stamina and changeability. She can not seduce normal scents - we like the first shot, then fade and in a few hours is nothing. And that should not be. (January 26, 2013 - Sylva F.)

Have you tried one of our perfumes?
Let us know
how you like it!
You might also like