Surrati Hikaya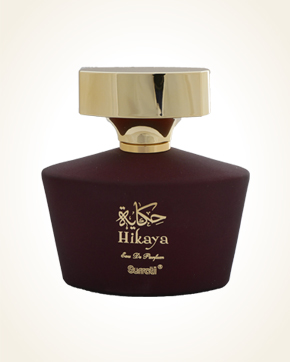 Surrati Hikaya
Eau de Parfum 100 ml
Out Of Stock
Eau de Parfum Sample 1 ml
Out Of Stock
Description
The floral fruity, opulent fragrance opens with the delicate beauty of violet-sounding with spicy black currant and ripe plum.
Flowers fully sound their chords and carry a harmonious connection between tenderness and narcotics. Enter gardens full of royal roses, creamy ylang - ylang, white - blooming jasmine, and be absorbed in their generous richness, complemented by the sweet scent of rare woods in the background.
The gracefully flowing gourmet echoes show a juicy delicious tangerine, a seductively beaten, sweet vanilla in a fluffy cloud with a sensual musk.
The intoxicating irritability is once again transmitted to the floral score, whose climax will sound in the icy shading of lilies of the valley, the captivating desire of colorful tulips and the magnificence of orchids.

Customer Reviews (4)
Hikaya is another of my top fragrances, just a complete bomb. (01/09/2019 - Marie Š.)

Dear Mrs. Lenko, Jano and Carolina, today came a package of wonderful scents. I think this is addiction already. Thank you for another wonderful gem of Surrati Hikaya. Although it was blind I am enchanted and utterly satisfied. The combination of flowers and fruit is so magical, gorgeous, fresh fragrance and also refined. I also tried a sample of Rasasi Sharina oil, a heavier but luxurious fragrance. What package does this fragrant surprise from the Orient. Thank you very much to Mrs. Lenka for solving my problem with the order. Once again, thank you dear ladies from Anabis. (5/28/2019 - Gabriela K.)

Hikaya is a beautiful, fresh nooobl fragrance. I'm riding the musk splendor, but this scent really got me. I'm a beginner, I discovered the site recently, and this fragrant world charmed me. I do not smell, but I dress in a fine fragrant robe that will cover me for days. Thank you very much for being (May 14, 2019 - Milka Z.)

Hello, it will not give me, and I also have to write. Hikaya bought only as described is an entry into the mysterious sensuality, all folded with the love of the master of his craft. That's the smell I was looking for :-D - I only reap the compliments, although I haven't felt it myself this afternoon, I'm pleasantly surprised by the reactions that praise my surroundings. And the smell really long and persistent smell will show me in the morning when I open a wardrobe where you need skirts or clothes from the previous day, because the smell blows on me as if I just applied it. For me there is fruit, but only to tease and add a really beautiful tulip and orchid. The fragrance for me is much more expensive perfume, so for me naááádhera. Thank you and I will look forward again :-). With wishes of all good and many satisfied customers (14.8.2018 - Gabča R.)

Have you tried one of our perfumes?
Let us know
how you like it!
You might also like