Surrati Fusion RoseGold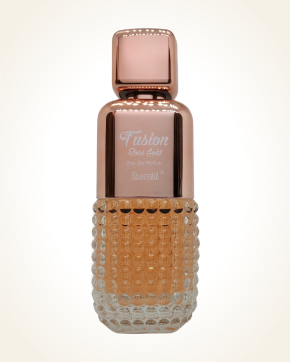 Surrati Fusion RoseGold
Eau de Parfum 100 ml
In Stock
Eau de Parfum Sample 1 ml
In Stock
Description
Fusion Rose Gold in a comfortably processed bottle made of heavy glass, opens with dazzling flowers vibrating with noble beauty, which is successfully seconded to gourmet fruit.
The velvety tenderness of the pink inflorescence is alternated by opulent chords of sweet-smelling tuberose with touches of fruit, whitish jasmine and the fragility of peonies.
The gourmet wave is resounded by delicious strawberries drowning its juiciness in dense honey, a banana whipped with vanilla cream mousse and cherries with caramelized sugar.
The aroma is more and more delightful, which is captivated by the fleeting echo of coffee cappuccino, to which its delicate aroma is bottled with powdered vanilla with musky refreshment and the soft softness of woody plants dominated by sandalwood, ending this gourmet score.

Customer Reviews (1)
Fusion RoseGold, another nice scent, is rather warmer, so it is suitable for winter and evening events. I prefer a fresh lighter scent. Although this scent is heavier, I don't mind (9.10.2020 - Marie Š.)

Have you tried one of our perfumes?
Let us know
how you like it!
You might also like