Surrati Ahubbak Lil Abad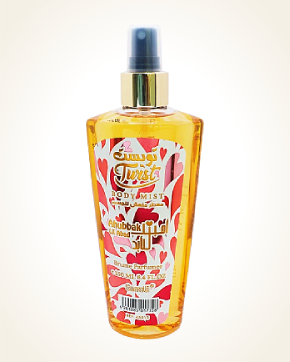 Surrati Ahubbak Lil Abad
Body Mist 250 ml
In Stock
Body Mist Sample 1 ml
In Stock
Description
Body Mist is a great addition to hot days, apply the fragrant fog best after the shower, when the delicate scent will adhere to your body and refresh you immediately.
Sweetly conspicuous concert with fruit chords will be played by white flowers dominated by sweet magnolia, opulent gardenia and white-blooming jasmine flowers.
Citrus touches enter the floral caress with another sweetly attracting fruit wave, red fruit. Juicy combined with sweetness, attracts to tones of tangerine intoxication, cherry mousse with gourmet vanilla and delicious strawberries.
From afar you can hear rare trees hidden in the softness of tender musk and the delicate beauty of rose hips.

Customer Reviews (2)
Hello, I also succumbed to the fashion wave and tried to order a body mist from you. I am pleasantly surprised by its intensity, to the fact that it is supposed to be the only fragrant accessory it seems to me, and not only to me, but also to the surroundings that it holds very well. AHUBBAK LIL ABAD is full of a light haze of fruit juices, which mix its seduction with vanilla and flowers. It's nice and I'm already looking at other places from Cardin. Beautiful summer days for you too (24.06.2020 - Katka S.)

Surrati Ahubbak Lil Abad is a beautiful delicate fragrance, a beautiful mist full of flowers with a little fruit. (21/02/2020 - Marie S.)

Have you tried one of our perfumes?
Let us know
how you like it!
You might also like