Solitaire Cream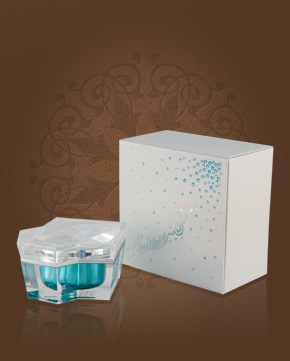 Solitaire Cream
Concentrated Perfume Cream
Out Of Stock
Description
You can intensify the fragrance of Solitaire with this additional perfume dreaming in the form of a perfume cream full of ice glare and glitter. You can use it in the décolletage or on your arms. You will glitter lightly and extend your fragrance with another unique perfume experience.
Perhaps a shimmering seductive lily of the valley with violet spells the story of the ice kingdom. The unique combination of rose petals and white musk ties you into a fairy tale full of magic.

Customer Reviews (1)
Solitaire - I'm also not surprised that the solid perfumes are gone. Solitaire is for me a memory of youth, holds beautifully and is an "icy" lily of the valley with purple and something green. I am also looking forward to the cream - glitter, because it is also very strong and just a little bit - moreover, it will strengthen Solitaire, which is really like a solitaire, so it goes its own way. And it has amazing stamina. (12/12/2012 - Sylva F.)

Have you tried one of our perfumes?
Let us know
how you like it!