Rasasi Sharina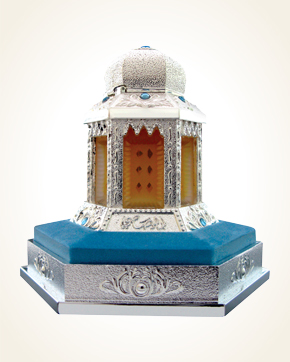 Rasasi Sharina
Concentrated Perfume Oil 30 ml
In Stock
Concentrated Perfume Oil Sample 0.5 ml
In Stock
Description
Luxury dreaming in the form of another of a series of exclusive perfumes, binds anyone who longs for a musky scent with a touch of mystical oud oil.
It is a shaking erotic charge that will brighten up all your senses;
The rare saffron with an earthy patchouli and mysterious echoes of amber shows the deeply set chords of an oriental composition underlined by a balsamic spicy wave of oliban.
Oud essential oil is woody sweet, it sounds rounded with a gentle line and its sensual connection with creamy ylang - ylang highlights mysterious sounding irritating seductive tones.
Let yourself be bound by Sharina, magically appealing with her totally unforgettable scent that remains behind you at every step you go.

Customer Reviews (16)
Hello, In the past, I bought a fragrant Rasasi Sharina oil from you. It is a unique fragrance. I smell like nobody. It's a scent - just TOP. Sincerely and wish you a nice fragrant day (26/11/2019 - Andrea K.)

Hello, for the second time I ordered a jewel of Sharina. It keeps charming me with power, it is warm, warm, and the Orient smells from it in all phases of fragrance. It is coordinated to the smallest detail. Thank you for having it, so I can have it. Beautiful days and many satisfied clients (5.9.2019 - Petra H.)

Sharina - amazing scent. Indeed, the scent created by the Master, I just have to agree. Thank you for fast delivery and gifts. (5/14/2019 - Monika Š.)

Based on the reviews, I tried Sharina - it's a beautiful, strong (for me) heavy smell, full of smoky undertones - this is how I imagine mysterious skin orientation ... but I still have to ripen a bit (yet with orientals this year) just starting :-) (18/12/2018 - Katka H.)

Have a nice Sunday in Anabis :-) Today I spend an exceptionally free afternoon in the company of your incredible fragrances. I have decomposed all the samples and flasks that I have from you in those three years (in February I have the anniversary with you). And that they are blessed. And I have to write a review on the jewel that I founded 3 years ago, saying that this really is not. But today??? Who is it ??? SHARINA - the fragrance so much celebrated by the ladies before me. Oh. It is obvious that I am maturing and as far as orient is concerned, I have developed :-) I perceive the smell quite differently than when I was a beginner and left with the first ball from you (white musk). SHARINA breaks down into something so unearthly that it is hard to find words. A touch of orient is noticeable, the smell is warm and sweet with great lasting. Hmmm definitely if it will ever be in stock again, it will be a sin :-) soon I will celebrate logs, so would it? Have a nice rest of the weekend and go on and drift into the fairy world. Yours (18/02/2018 - Lenka G.)

Sharina - I've had it at home for a long time, but there was no time to write. This is something unreal ... I don't like oud in perfumes, but here's the right place, and in conjunction with the fruit and the other ingredients ... I don't have words! I am very glad that I managed to buy the whole perfume and I hope that you will ever have it on offer, even if it lasts for a long time, because just a drop and smell across the room, as my husband says :-) It is the best perfume of all I have and also the one I compliments! Most importantly, no one else smells like that! Thank you very much! (1/24/2018 - Zaneta B.)

Mrs. Lenko, Mrs. Jano, once again a huge thank you for your willingness, for a gift, for your professional conduct. But I have to mention Sharina again, because she is absolutely and indescribably beautiful. I feel especially wonderful honey, oudík, patchouli, sandalwood, musk and maybe even vanilla. The aroma is beautifully round, nothing stands out. The individual tones are easily recognizable, while blending and blending. This is the right orientation for me. He is taking me somewhere where I know it intimately and at the same time I cannot remember ... it is such a beautiful, sensual, mysterious cry from afar. I can't stop sniffing my wrists and blissfully sucking in the most splendid and deepest perfume I've ever tried. I've been cheering on your goods a few times before, but Sharina, it's a story as long as humanity itself, as deep as the soul of the world. This fragrance is for me a masterpiece !!! And the beautiful bottle ... I've never seen anything like it before. SPLENDOR!!! Thanks to you for the dreamy experiences that perfume from your offer evokes, for moments of delightful intoxicating ... (13.7.2016 - Lenka S.)

Sharina - love at first sight ... flacon for princesses, queens, Goddess ... I longed for Sharina as soon as I saw the picture, read the composition and reviews. But then I thought I was crazy to order her blind. I was equally intrigued by Mena and others, but they didn't sound like I expected. Sharina is as beautiful inside as she is outside. It is without exaggeration unearthly! It is a story of longing for freedom, about the power of personality, beauty, depth and passion. Sharina is like the soul of a woman who seeks herself and finds her beauty and uniqueness in every drop. When I smelled for the first time, my head tangled and the frost ran down my back, the excitement of the beauty and depth. Truly a masterpiece, ah, I can't peel my nose off my wrist. (6/21/2016 - Lenka S.)

And it is decided ... several times I rode on this perfume ...... today I am clear ..... I have a holiday, so why not make yourself more happy.With all the perfumes I am satisfied and the last review of Sharina confirmed me in it that you need to do more joy.Thank you ..... very .... (22.7.2015 - Magda J.)

Today they brought me perfume SHARINA, even when the postman out of the car and carried a large box, my heart pounded with all curiosity, I burned from the gate with impatience and looked forward to a little kid when I unpack it. The Lady of Anabis played hide-and-seek with me when the box was perfectly concealed under a beautiful bag and still hidden in one, but then it came, I pulled out a beautifully crafted box, unpacked, was like a fountain in the middle of a desert with live water. SHARINA is a charming, beautiful, irresistible, sweet fragrance associated with a delicate rose and flowing gold oil, where musk, ambergris and other ingredients create a juicy interplay of something supernaturally divine, not delicate and delicate, but powerful, mysterious and sensual ladies lose reason. It is simply breathtaking, and my reason has denounced my service, because even when writing I keep sniffing and just enjoying it, and of course I have to see the whole bottle. I would like to thank Mrs. Lenka for the gifts I received and for her kingdom, where one finds herself in another world when shopping for perfumes, for her willingness and excellent professional approach. Once again, thank you very much (22.7.2015 - Miloslava P.)

Sharina cpo is the elixir of sin. The sweet honey tone, which carries the whole scent, complements ripe mangoes, overripe cherries and peaches and sweet roses. Burning sandalwood gives a smoky erotic charge. Juicy vanilla plays a passionate game of hot sweetness and tender softness. Everything revolves in the vortex, hot smoke rises from the skin and intoxicates the senses. Amazing stamina is just a bonus. (08/07/2014 - Simona J.)

Late-night atmosphere in a bar where lazily draws smoke from expensive cigars over half-empty glasses of high-quality cognac and whiskey, where in the shadows of the men men eagerly await the intimate magic of the night. She caught all the attention in her air, awakening her desire to be caught in her nets with her sweet footprint. All of this is in Sharina. Cut… Finally she escaped the palace guards… a royal treasure guarded like an eye in her head, an innocent beautiful bud in burst. In a fluffy white dress, she slipped through the gate and weaved lightly on the bazaar, amongst the stalls of flowers, almonds, spices, incense, the gusts of smoke from the masters of metal, behind him, if she would get a rose again? Their eyes meet in the crowd, she is so fragile, so vulnerable, her painful desire to protect her will hurt her heart. He never leaves her, never stops loving her. His dream is in front of him, and he shyly hands her her rose. Both smell the same, intoxicating velvet roses. Time stopped. Today she has a surprise for her, a sandalwood ring. He puts it on his finger in a dazed way and tells him everything with a single, longing gaze. He clutches them to his heart, delightfully closes his eyes, and is carried away by the fragrance of his secrets. Bottom line, Sharina starts with a soft but intense almond note with smoke in the background, with velvety rose and sandalwood, a bunch of ingredients blend nicely, the smell thickens and sweetens, the smoke deepens and keeps sweetness at bay. A spice of precious spices reveals a pinch of ambergris served on musk. Fine-tuned, masterfully sensual scent that exacerbates feelings and speeds up the heartbeat of a man. Kalemat oil twin. (11/1/2013 - Andrea Ž.)

Yesterday I received the ordered Sharina and I have to tell you that I am excited :-). Not only the beautiful fragrance, but also the amazing packaging, it really is not seen, it is a small gem. The smell is indeed very sensual, just as you write in her description and feels like a second skin. I look forward to further exploring the Oriental world of fragrances and I must say that Sharina is a wonderful start to it. (Sep 13, 2013 - Petra G.)

Sharina, this is a wonderful cocktail of all seductive scents combined. Although I'm not into strong scents, this one is beautiful! (January 26, 2013 - Romana V.)

And Sharina is a chapter for herself - the warmth of something gorgeous, hard to describe. One is certainly with Sharina, and together with Oudh al Bahar form an inseparable set and I highly recommend to all, invest a little more and buy both fragrances. In addition, I found that Arab edp does not cleave at all on the body, which is amazing, they do not stain even in the summer. It is simply the quality of the raw materials used. (11/10/2012 - Sylva F.)

Your perfume oils enchanted me! Sharina's uniqueness is unreal. (11/07/2011 - Jaroslava C.)

Have you tried one of our perfumes?
Let us know
how you like it!
You might also like