Arabian Oud Shahrazad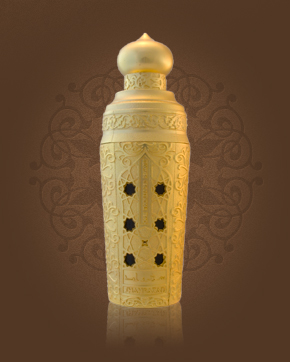 Arabian Oud Shahrazad
Eau de Parfum 100 ml
Out Of Stock
Eau de Parfum Sample 1 ml
Out Of Stock
Description
Oriental beauty from Arabian Oud will enchant us with its fabulous story full of fragrances.
We start with a honey bath connected with a flower garden. Blending the lotus flower with ylang-ylang will directly dazzle you. Warm sweet fragrance lends us geranium.
Fairy-tale Shahrazad told her stories of a thousand and one nights, so let the waves of fragrance transfer to a fairy tale, which is prepared for you intoxicating lineage of fragrant essences, which together create an amazing perfume. Patchouli with black musk combines the delicate and clear scent of pink laurel with amaranth and gently permits cranberries. In the perfume everything is so dreamy connected that it will certainly bind you and not let go.

Customer Reviews (4)
Shahrazad is úúúúžasná, my blood type and thank you very much for the gift, it is also very pleasant. It's really a fairy tale that can't be compared to the perfumes bought here on the market. Thank you once again. (Sep 30, 2013 - Mirka V.)

A thousand and one nights ... It can't be described better. A thousand and one story, a secret ... a beautiful girl sits in silk cushions and tells another of her never ending stories to her king, her love ... and hopes to meet him the next evening that dawn will not end her life .. As in her stories, here too the components intertwine in infinite harmony and do not want to let go of their arms. A heady fragrance, rich and full of ... Clear lotus flowers, delicate jasmine with a hint of orange peel and patchouli, intoxicating ylang, resting on honeycombs, sweet, dense ... crushed cranberry berries in a crystal cup ... powdered musk and rare light wood ... Perfect composition. It is dawning ... and the king is eager for the next evening ... come Shahrazad ... and tell ... For me personally there is something, albeit different and better processed, what I perceive in Givenchy Ange Ou Demon Le Secret (lotus, cranberries, jasmine, musk, wood). Shahrazad sounds a lot sweeter and MAINLY its ingredients are natural, perfectly processed and authentic, "Le Secret" sounds artificial. I certainly do not want to say that it is the smell of the same keg, only in certain parts I perceive something known ... Arab women are so easily sinking ... :-) (January 1, 2013 - Renée H.)

Shahrazad is beautifully mysterious and full of oriental fragrances. It's completely out of my current perfume direction, but it's much and more addictive. It's a strange spell, I don't know if it does most of the ingredients of natural essential oils or whatever, but it's a hoody exciting scent. My partner accepted it, saying that I should not wear it out because it is full of eroticism ... :-) (28.12.2012 - Petra Ř.)

Shahrazad is the most beautiful catch. I personally feel the sweetened saffron there, and found geranium on the Internet. Which would fit me Smell has in me a bit of Saat Safa, although much more sophisticated. I can not recognize the components very much, someone must kick me and then I recognize it, the identification I do not go (27.6.2012 - Dana N.)

Have you tried one of our perfumes?
Let us know
how you like it!
You might also like