Ajmal Shahla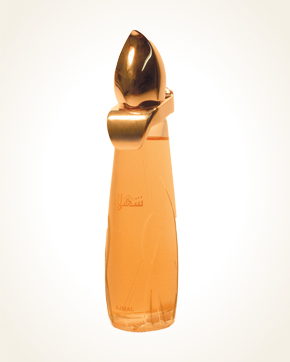 Ajmal Shahla
Eau de Parfum 50 ml
Out Of Stock
Eau de Parfum Sample 1 ml
Out Of Stock
Description
A sparkling, delicate, sweet and refreshing fragrance, full of juicy tones of mandarin and orange flowers, so you will be impressed by the first few drops of this perfume.
Enter the gardens with the enchanting scent of sweet vanilla, let yourself be carried away on the beautiful and slightly bitter key of the essences of bergamot, backed by spicy cedar. At the end of this composition you will be stroked with soft ambergris and give the whole perfume a special touch.
The perfume envelops and binds you with an infinitely long and amazing feeling of subtle yet intense fragrance, emitting fragrant secrets hidden inside the bottle as well as your dreaming behind the eyelids where you let your imagination lead you to beautiful gardens or palaces full of secrets.
The Oriental fairy tale begins with a few drops of perfume, let yourself be pampered with this scent and come into this fairy-tale world…

Customer Reviews (4)
With the first drop, we are surrounded by a soft, sparkling aura from the beginning of a rather woody and resinous fragrance with a soft vanilla base, topped with a refreshing bitter bergamot. The woody line lazily lays in the intoxicating power of sweet orange blossoms backed by a pinch of spice and smoothed to a lightly powdered tone. The warm atmosphere of the perfume is accompanied by a reflection of the temple's atmosphere saturated with a soothing burning ambergris and a blurred trace of wax candles. The intimate strange subtle fragrance is full of nostalgia for the charm of old times and enticing distances. Her seductive touch envelops us with sensual elegance and for a long time drifts to the fragrant secrets of the Orient. (January 8, 2014 - Andrea Ž.)

A fairy tale of the Orient ... decorated with Riyadh princess chambers ... the color of gold. Bergamot with arms of orange flowers, dusted with sweet powdered musk, with touches of soft vanilla and velvety ambergris ... warm feminine fragrance, the charm of sensuality (21/12/2012 - Renée H.)

Finally, I was able to appreciate Shahla, a beautiful powder oriental who had no double, and was extraordinary, albeit unreasonable or conspicuous. How could I last without it? (07/06/2012 - Dana N.)

Thank you for completing the order. I received an edp yesterday. Shahla. They are really interesting and the fragrance lasts for a long time. Thank you (29.32012 - Barbara J.)

Have you tried one of our perfumes?
Let us know
how you like it!
You might also like