Spectra 111 X Royale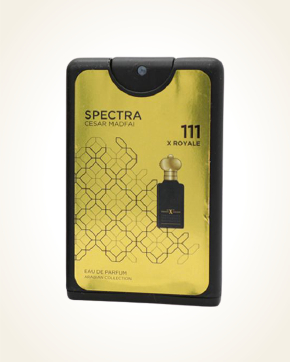 Spectra 111 X Royale
Eau de Parfum 18 ml
In Stock
Eau de Parfum Sample 1 ml
In Stock
Description
111 X Royale is a warmly spicy scent, which combines gourmet chords of licorice and bittersweet saffron, with undertones hidden in the warmth of animal skin.
The oud essential oil-lined path is complemented by mysterious incense along with a soft-sounding rose in the background. Rare woods are intertwined with their softness and smooth embrace, into which the leather chords are fully immersed with the echoes of gourmet-sounding tones of warm spicy oriental spices.
Pocket package of spray in the shape of a credit card, contains 18 ml of Eau de Parfum. Its big advantage is the small size, which fits into even the smallest handbag or pocket, and your favorite scent, so you can always have it with you.

You might also like