Spectra 109 Desert Rose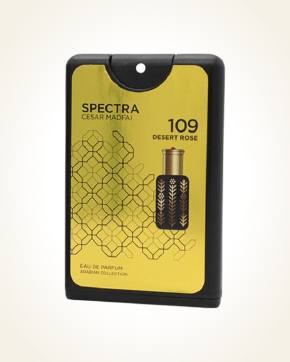 Spectra 109 Desert Rose
Eau de Parfum 18 ml
In Stock
Eau de Parfum Sample 1 ml
In Stock
Description
The echo of the juicy lemon will play its solo with the help of slightly bitter bergamot and fresh touches of grasses, which are complemented by spicy basil.
Herbal patchouli will sound into the depths of earthy tones, into which oud essential oil dissolves its fully woody note together with a honey bed of amber, in which magnificent red roses with jasmine are drowned.
Delicious citrus chords will sound again in soft-sounding oud chords, this time accompanied by a vanilla serenade.
Pocket package of spray in the shape of a credit card, contains 18 ml of Eau de Parfum. Its big advantage is the small size, which fits into even the smallest handbag or pocket, and your favorite scent, so you can always have it with you.

You might also like