Al Alwani Rooh Al Musk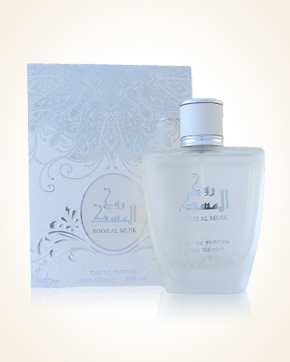 Al Alwani Rooh Al Musk
Eau de Parfum 100 ml
Out Of Stock
Eau de Parfum Sample 1 ml
Out Of Stock
Description
Freshness and cleanliness - this will be your first impression of Rooh Al Musk.
The softly musky musk extends into the freshly sounding grasses, supported by citrus lure. The lime does not protrude here, just bathes gently in the water spray with cool echoes of airy notes.
Sensually add a few tones of precious woods to seductive warming, when the bloody conclusion again belongs to the powdered musk.

Customer Reviews (8)
Hello, thank you for so quick delivery of my perfume - Rooh Al Musk, I already smell and I am very happy! :-) Have a nice day :-) (7.2.2017 - Hana K.)

To date I own a total of three white musk scents: Al Alvani - Rooh Al Musk, Surrati - Royal Musk and Afnan - Musk Abiyad. All three are gentle thanks to musk, thanks to the flasks very original, each differentiated by different grasses, woods, perhaps even citrus ..... They are soothing, clean, suitable for moments of relaxation, rest, but also for everyday use, they are unobtrusive, it clings to the body, but at the same time it smells. They are of high quality. I made my dream come true. Thank you, ladies from Anabis, for bringing us such pieces. At the same time, I greatly appreciate the redesign of your site, which is now very clear and very often I will enjoy it. Hopefully I will make another dream come true - look in Dubai. I wish you many happy customers and I wish you all a lot of health and many beautiful scented moments. (11/1/2016 - Helena B.)

If Musk Abiyad is tenderness, puff, purity .... I wanted to drown in it .... so Rooh Al Musk is perfectly tuned tenderness, purity .... is a little fresher, underlined by citrus, but only slightly, it sounds like a cloud over the sea, light, refreshing ... I can't find words. I have always loved vanilla, now I know that white musk is also very nice and soothing. Thank you in Anabis for the pleasure you bring to our satisfied clients. I will also like to test Louis Cardin Gold and Royal Musk this weekend. My collection of fragrances has grown a bit again and I am proud of it. Believe that as soon as I have a spare moment, I gladly return to your site and soak up all the perfect fragrances, descriptions, flasks - fragrant world. Thanks again. (09/09/2016 - Helena B.)

Originally I longed for Royal Musk, but it is currently sold out and I think that I will return to it because the formula was breathtaking.Pižmovkám I totally failed, but as I find it is not musk like musk :-) from the wrist, but after tasting a few fragrances finally here and the senses and fantasies work as they should .. for a while the smell reminded me of Louis Cardin Gold..ten but at the beginning more citrus and more orange. Here's the smell cleaner, fresher, like walking in the summer after an evening bath and after a storm, walk past the village along a field with freshly mown grass..the setting sun, the last warm rays, smells of rain grass on one side, The wood smells of wood and in the middle of everything you stand with the smell of Dove soap .. and all together. After twilight in a cool coolness, you can feel the smell of woods wrapped in a wonderful powdered musk. Another fragrance that ravages the senses ... (23/08/2016 - Irena Č.)

Hello, thank you for the quick delivery and Golden Sand in the ball as a gift :-). I like muse fragrances so I ordered this one, which I missed from your offer last year. As soon as my daughter and I unwrapped the package, my fragrance is no longer mys, my daughter Rooh Al Musk just took me away. Daughter is only 17, but the fragrance of your offer also likes, especially balls. Musk is delicate, it's like washed laundry, dried somewhere in the sun in the cottage, where the scent of washing and the smell of hay, grass, it's very nice. So I have to order it for me to finally have it myself :-) Have a nice summer and I look forward to the next package, now seriously for me ..... (14.7.2016 - Irena S.)

Rooh AL Musk I have for the second time, it is pure snow white nádhera.Mám already have a nice collection of your wonderful fragrances and I think will add more.Děkuji for added gifts and wish you a beautiful fragrant summer. (23/06/2016 - Jarmila Z.)

Hello, it will not give me and I have to share with you my impressions of the last purchased Rooh Al Musk fragrance. Despite the fact that I was more drawn to fruity-floral scents, so this musk is directly unique and won over all that I have at home and that there are not a few. I feel it all around me like an aura, it stands out best from my hair. In short, thank you again for your excellent type, I can not get enough of it and I do not know if my daughters will not take it when they also feel it. (7/30/2015 - Helena P.)

Hello again, I greet you today and just like a few months ago I was charmed by Supremacy Gold after spraying, so at today's visit you sprayed something musky on my wrist that almost didn't smell at first, but now I feel something so amazing on my hand soft and pleasant that I will probably have to have it :-) :-) :-) Can you please tell me what it was? All I know is that you were talking about pure musk. (09/07/2015 - Helena P.)

Have you tried one of our perfumes?
Let us know
how you like it!
You might also like