Afnan Riwayat El Taif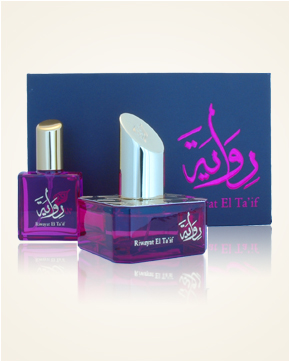 Afnan Riwayat El Taif
Eau de Parfum 70 ml
Out Of Stock
Eau de Parfum Sample 1 ml
Out Of Stock
Description
Riwayat El

Bowl, Amber, Oud and Taif Rose, each of these unique perfumes tell their own story, but combined - they are Riwayat. Riwayat pays tribute to the origin of rare and exceptional ingredients, built on a unique fragrance composition that will stand the test of time.
The story of these fragrances - musk, ambergris, Oud and roses from Taif, began long before our own stories. Since the 15th century, musk has been reserved for royal families. The true essence of ambergris, Marco Polo himself has revealed to the world. The story of oud oil is deeply rooted in Arab culture. And no one will ever know when and how the rose from Taif appeared near Mecca. Riwayat, like great stories, is built on a proven combination of mystery, plot and tension.
El Taif

There are many myths and legends that try to explain a mystery, but only I know how I found myself in one of the oldest cities in the world. Already in the 17th century I was part of a wonderful fragrant composition for the ruler of Jahangir, and at that moment I understood my true mission - I am the Queen of Roses - I am Taif Rose . My strong, intense aroma is not just for everyone - only the best perfumers of the world can tie my strength.
In a luxury box you will find two bottles with Riwayat El Taif perfume, Eau de Parfum 50 ml and travel package Eau de Parfum 20 ml.

Customer Reviews (1)
Hello, as always - big thanks. Rose - this is my life love. Whether you stroll through the park and soak up blooming flower beds, or get on a dirt road where I will be surprised by a rosehip bush. Roses - I started with Taif Rose Spirit about 6 years ago - her fragrance was very beautiful, but she was hiding delicately and was only in my intimate proximity. I fell in love with the fragrance and despite its fragile beauty I had three packages from you. Then came the Arabian Prestige Rose - here I slowly got used to the strange agar wood, but the smell of rose was also very beautiful. Now I have been in the clouds of Anfas Al Ward several times, but my greatest compliment today is the perfume from Afnan. As stated in the description of Riwayat El Taif - I am the Queen of Roses - I am Taif Rose and I am not for everyone - it is a very unique fragrance. El Taif has been beautiful and powdery since the first spray, full of fragrance, yet gentle, very beautiful. Memories associated with fragrances come to life, it is the florist where the smell of flower buds mixes with the dampness that prevails in every florist. It is a moist scent of flowers, fresh, just imported from beds and greenhouses. It is a pink scent with a powdery scent, it is a light cloud of lip gloss, it is a bouquet of flower buds with dew in the petals. It's one of the best perfumes I've ever tried. Great, really beautiful and warm scent of summer, and not only that, and the smell of refinement with a cool tone ... it's beautiful, beautiful, beautiful. Thank you for the treasure. Yours faithfully (13.7.2016 - Miluše V.)

Have you tried one of our perfumes?
Let us know
how you like it!
You might also like