Rasasi Musk White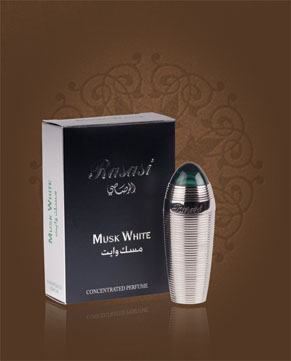 Rasasi Musk White
Concentrated Perfume Oil 5 ml
Out Of Stock
Concentrated Perfume Oil Sample 0.5 ml
Out Of Stock
Description
The new collection of four very beautiful Rasasi fragrances is called the Musk Series. Each CPO is in a silver container containing 5 ml. They can be combined with each other to create your own unique scent, or you can use each perfume separately.
As the name suggests, there is a delicate and sensuous scent of white musk, which is connected with a soft velvety ambergris. Together, these beautiful tones have created a fluffy clear puff of fragrance for your scent.
Expiration May 2016.

Customer Reviews (2)
Musk White (Rasasi) cpo unfortunately my nose was unable to almost catch it. Mosaic trace is very light, clean, like skin after bath. (02/03/2014 - Simona J.)

As the name suggests, Rasasi Musk White represents the smell of freshly laundered linen, nothing more, nothing less, yet with the perfect refinement of freshness and purity. The white musk, together with the amber, creates a fluffy, soft cloud that can be deployed with a tiny drop. It brings the touch of fresh mountain air, which in a golden sunny frosty day dries the bedding and towels hung on the clothes lines, at a small guesthouse under the shields of the alpine glaciers. So far, the work of tender musk, which is accompanied by bright ambergris and its light woodiness with little earthiness, raises Rasasi Musk White above the category of fabric softener fragrances. The aroma is gentle, subtle, with excellent stamina and for its natural purity I would see it as a hot candidate for events where it is necessary to observe a certain "scent code". (30/12/2013 - Andrea Ž.)

Have you tried one of our perfumes?
Let us know
how you like it!