Rasasi Jasmine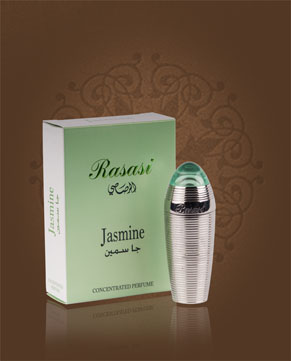 Rasasi Jasmine
Concentrated Perfume Oil 5 ml
Out Of Stock
Concentrated Perfume Oil Sample 0.5 ml
Out Of Stock
Description
The new collection of four very beautiful Rasasi fragrances is called the Musk Series. Each CPO is in a silver container containing 5 ml. They can be combined with each other to create your own unique scent, or you can use each perfume separately.
The tantalizing charm and seduction of these tiny white jasmine flowers is supported by the slightly citrus bergamot wave in conjunction with the deliciously scented orange flowers. The captivating sensual interplay continues into a musky embrace.
Expiration May 2016.

Customer Reviews (3)
Among the oils I ordered is Rasasi Jasmine. It's beautiful, it's really almost jasmine soliflor. (5/16/2015 - Monika T.)

Rasasi Jasmine's first impression is a heavy, intoxicating scent, whose satiety is fueled by restlessly bouncing white flowers like pinpong balls on a rubber trampoline. After a short while, however, their frolics cease and finally behave as eligible exemplary flowers and begin to spread into the space the delicate authentic scent of jasmine, the delicacy of which is refreshed with a light bergamot whiff. The captivating connection is bordered by lines of orange blossoms, from which a faint bitter haze rises as the finest silk and envelops the sweetness of the clarity into a veiled, irritatingly seductive position. The intoxicating flowers open their arms to a sparkling musk and slowly dissolve into a sensual velvety, hints of a powder finish. Do not be discouraged by the initial disorder, jasmine turns into a dearly fragrant tender elegance. Given that this powerful oil really needs to be dropped, the perfume holds more close to the body and its intimacy ignites the desire to touch the scented skin. No need to talk about great endurance. (28/12/2013 - Andrea Ž.)

Rasasi Jasmine is a shock to me, a very pleasant shock !!!!!!!!!! After years of searching for jasmine perfume and buying expensive perfumes, which had in common with the name of jasmine and after half an hour after the smell of even a monument - such a wonderful !!!!!!!!! Of course I will remain your customer and I will praise and recommend you everywhere. (13/12/2013 - Fany J.)

Have you tried one of our perfumes?
Let us know
how you like it!
You might also like