Pheromone Perfumes Musk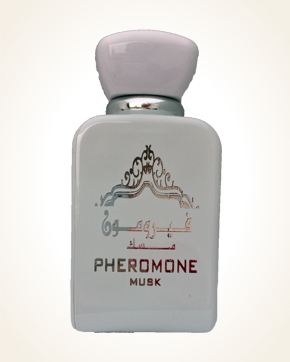 Pheromone Perfumes Musk
Eau de Parfum 100 ml
Out Of Stock
Eau de Parfum Sample 1 ml
In Stock
Description
Musk stroking is the initial sensation that comes to you with the first drop of a faint scent. Musk with its gentle line is accompanied by the cold water shower, which combines the freshness of bergamot.
Sandalwood, with an incredibly fragile scent of tiny violets, adds warmth and deeper lines. The violet bed gives the perfume a powdery trace and a touch of intoxicating sensuality.

Customer Reviews (2)
Pheromone perfumes musk - no different than my adored type of scent ........ beautiful magical musk beauty ... like my favorite Musk Abiyad ... These types are my favorite .. Now I realize that I have long Tooty musk, it was my first buy according to the review and instantly love at first hearing .... I really did not understand what it is for the smells that you will not find in our Pafumérkách ..... it just took my breath away. ... such a beautiful .... and since then I do not buy our Europeans .... Have a nice and thank you very much .... :-) (7.2.2018 - Romana V.)

Hello to Anabis, thank you for the fragrant package. - Tasting slowly and gradually, it is a "ceremony" for me with every fragrance "cuddling" pomaaalinku acquainted and welcome at home :-) Pheromone Musk is a musk fragrance, but otherwise. In the beginning, she reminded me of Yas Musk, perhaps the sandalwood. So in my beginning it seems like a harder musk, but it only takes about ten minutes. Like when you have tea that is bitter at first, but then it is tasteful ... so when the wood phase begins, the smell begins to soften, as if it is gradually sinking deeper and deeper. The musk is fragrant and powerful. It is neither sweet nor cold, its own and intense. The next stage is when the water appears .. I really feel like you are somewhere by the sea, and somebody splashes you ... it's just a fleeting moment of the salt water shower, and then the violet sways. We have already developed completely and the smell is exactly as soft as musk is expected. It is a huge holder and beautiful. Thank you very much for your beautiful assortment. And when I get enough of this musky beauty, I throw myself on Vibrants :-) Beautiful days and thank you very much for the presents. (26/09/2017 - Radka M.)

Have you tried one of our perfumes?
Let us know
how you like it!
You might also like