Paris Corner Killer Oud Nights of Arabia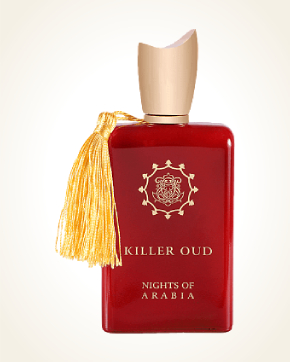 Paris Corner Killer Oud Nights of Arabia
Eau de Parfum 100 ml
In Stock
Eau de Parfum Sample 1 ml
In Stock
Description
Sophisticatedly seductive, this is Nights of Arabia belonging to the Killer Oud line of the Paris Corner perfume house.
The fragrant concert is opened by strange, bitterly bitter tones of juniper combined with delicious citrus pomelo juice and a bittersweet hint of saffron with a few notes of animal skin.
Rare woods highlight the velvety warm, cashmere wood, to which a deliciously gourmet, raspberry extract with a fragile line of violets winds.
Roses harmoniously blend their flowers and the greenery of the petals and stems into the dry smoky vetiver and rare woody plants in the background, the softness of which harmonizes with the majestic queen of flowers, resounds in gourmet chords.
So taste the sensual scent permeated by the hot atmosphere of the mysterious nights of the Orient.

Customer Reviews (1)
Hello, thank you for the instant delivery. When you introduced the new brand, I was immediately fascinated by the packaging of fragrances and I tried the formulas. For you, one can be sure that the scents will be beautiful, except for the heavy oud, where I was really "wrong" and I only have it for exposing the bottle, the scents are amazing. But back to KILLER OUD NIGHTS OF ARABIA, I'm not surprised, the formula is amazing, strong scent, but it's nothing when I came full of perfume yesterday - the package - well, like Amouage :-D, I think it's just me, or is it us more? This is such a stone, the scent is stronger than the beautiful Taariikh from SJA, and so far I have had their brand as the top holder :-). Nights of Arabia is mysterious and really incredibly beautiful, I probably fell in love again, as I used to do in Taariikh oil. Nights of Arabia is amber-oriental, I am reluctant to write warm, because bergamot and saffron add a special bitter and dry tone and the skin elevates it all to the heights. The scent has really incredible endurance ... It's beautiful, strong and goes very well in the surroundings, it's a pity that the veils have to be worn :-) :-) So I'm already looking for another full package of the brand, because all the samples fascinated me, some so much that I will have to exhaust the wishes for Ježucha with Paris Corner :-D. Thank you and take care of your health! (19/11/2020 - Mother B.)

Have you tried one of our perfumes?
Let us know
how you like it!
You might also like