Afnan Not So Secret Femme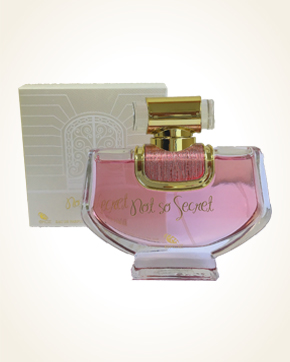 Afnan Not So Secret Femme
Eau de Parfum 90 ml
Out Of Stock
Eau de Parfum Sample 1 ml
Out Of Stock
Description
The tender, floral-fruity caress opens the tones of peony leaves inviting you to a summer party. Enter the gardens of roses with fruit tones dominated by an apple and an irresistible fragrance shrouded in the freshness of a green pear.
And again we are at the flowers, this time a flood of freesias of all possible colors, with their full, seductive scent.
Fragile, fresh and velvety chords intertwine with the different stages of fragrance, when the onset of light nuances of rare woods, the fragrance gently curls into deeper notes to return to a sparkling tender lure with the help of jasmine with a spray of fluffy musk.

Customer Reviews (2)
Hello Mrs. Lenko, I have to write my impression of Not So Secret Femme from Afnan. When it came to me, along with the amazing Taj Al Arab perfume, I couldn't stand it and immediately unwrapped it. Very nice bottle, except the closing, which does not hold (trifle) .... I smelled and my first impression was ... hm nice flower. I put the perfume back in the box and put it aside for some other time ... In about 10 days I couldn't do it and unpacked it again, sprayed it on my hand and the reaction was ... hhhmmmm a wonderful smell :-). At first it seems intense, but in a moment it is so sparkling, pure, springy ... It is really beautiful, like all the perfumes I have ever had from you (except for two roll on Khalis Hall and Attar Dua, which I just failed) ). Thank you again for your recommendations. Thank you very much and have a nice day. (3/31/2017 - Renata K.)

What literally took my breath away is the scent of NOT SO SECRET Femme by Afnan. I have been looking for such a wonderful smell of peony for a long time and the stamina is incredible. And I note that I have been struggling with colds for a week, so I can't enjoy the smell 100%. I couldn't get a better birthday present. I recommend the smell to all. Thank you very much for such a wonderful tip and have a nice day. (3/10/2017 - Lenka G.)

Have you tried one of our perfumes?
Let us know
how you like it!