Naseem Jameelah Pen Spray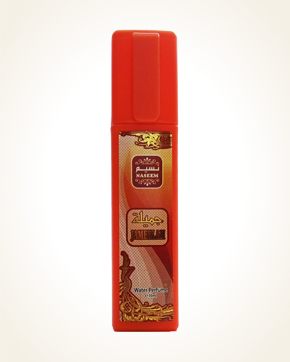 Naseem Jameelah Pen Spray
Water Perfume 15 ml
In Stock
Description
Playfully assembled fruit concert will sound chords of delicious orange with crisp fresh green apple. A gourmet banana with juicy grapes will show up and this variation blends in tone to tone on a slightly swaying sweet wave of gorgeous gourmet vanilla.
The introduction of the floral aria will be performed by delicate-sounding orange flowers and white-blooming jasmine. Her royal highness will play its score brilliantly - a noble rose accompanied by a sweet accompaniment of the sweet echoes of mimosa.
The aroma is full of charming fruit seduction with floral elegance.
Jameelah Pen Spray has the same fragrance composition as the popular Jameelah CPO fragrance. Water Perfume - Oil dissolved in alcohol-free water leaves a fine scented layer on the skin. It is ideal for hot weather, when your skin not only smells, but gives it hydration for a very long time. Shake thoroughly before application to the body to join the ingredients together. Apply Water Perfume Jameelah to skin or hair, but not to clothing.

You might also like