Naseem Muhabbah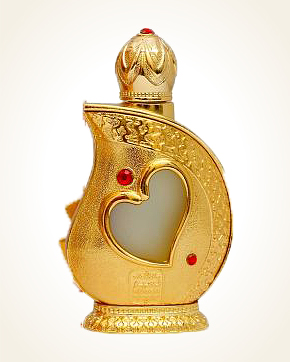 Naseem Muhabbah
Concentrated Perfume Oil 15 ml
Out Of Stock
Concentrated Perfume Oil Sample 0.5 ml
In Stock
Description
The floral elegance played out in chords of fruit is Muhabbah's "love abounding".
Fruit tones open up delicious raspberries, sweetness of wild strawberries, juiciness of oranges and exotic scented, pineapple melon.
Delightfully gourmet embrace will be replaced by elegance of flowers, which will be heard by gentle jasmine accompanied by creamy ylang - ylang and majestic roses.
Several woody echoes flicker from a distance, turning its line to sandalwood, which complements the supernaturally sensual duo of a smooth, all-encompassing, gourmet vanilla and crystal musk touch.

Customer Reviews (2)
Beautiful day Mrs. Lenko, Muhabbah perfume I got from my friend as a birthday surprise and I must say that I am absolutely blown away ... blown into the beautiful blooming garden of the Arabian palace, where the scent flows from each flower. The whole interplay is complemented by a tray of fresh summer fruits laid by the pool and ends with a light vanilla caress. Despite the fruity charge, the smell does not seem sweet or heavy, on the contrary, it is juicy and fresh, for me the perfect smell for sunny summer days. Thank you very much and have a nice day! (7/18/2018 - Anna Z.)

Hello Mrs. Lenko, I write a little later, but I have to compliment you on such breathtaking flacons that contain the divine fragrances. Muhabbah from Naseem is a wonderful gourmet composed of flowers, decorated with raspberries, wild strawberries, melon is added and all this is complemented by a breathtaking vanilla with musk. (06/07/2018 - Milena P.)

Have you tried one of our perfumes?
Let us know
how you like it!
You might also like