Naseem Bustan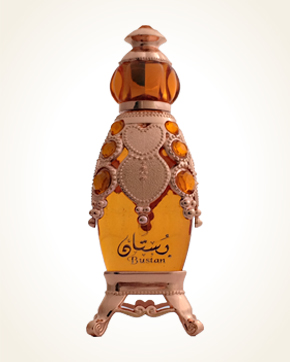 Naseem Bustan
Concentrated Perfume Oil 25 ml
Out Of Stock
Concentrated Perfume Oil Sample 0.5 ml
In Stock
Description
The first scent of Bustan opens her perfume arms in an elegant, floral key with a subtle undertone of chypre tuning.
The nostalgic echoes of soap aldehydes linked to the tender beauty of carnations, letting jasmine, iris and velvety roses enchant the cold of the white lilies.
Delicious fruit chords are opened by a sweet creamy peach with grape, which is stroked with gourmet bitter almond mousse.
Initial green tones dissolve in the depths of dry mosses, mysteriously sounding oud oils, which spread their intensity into the sweetish honey bed of smooth ambergris and thus direct the perfume into a pleasant oriental line.

Customer Reviews (2)
Bustan I could not try: it has an attractive composition and it is "chyprovka" (and I can :-). But the evaluation will be brief: the first impression in me was the idea of chamomile tea with a little peach compote in which a few rose petals fell. I give him a chance on different days and at different places of the skin, but the impression is more or less the same; chamomile tone prevails, although there is no word about herbs. I can't say I don't like the smell, but most of all I can imagine it in baby cosmetics. If wearing, then probably on a warm summer evening, when I'm tired of the heat and longing for something soothing and uncomplicated. (3/18/2019 - Petra P.)

Another greeting to dear ladies in Anabis, although I have only a sample of this perfume, but it is a beautiful intense floral-woody fragrance with a soap tint to the orient.I would compare it to Bakhour from Al Rehab. Great thanks for such delightful scents that you choose for us.Hello health (17.4.2018 - Milena P.)

Have you tried one of our perfumes?
Let us know
how you like it!
You might also like