My Perfumes Badr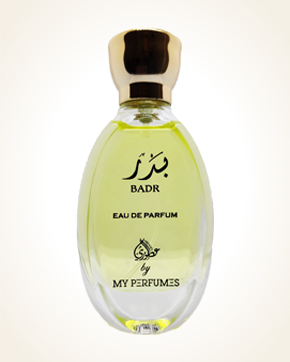 My Perfumes Badr
Eau de Parfum 35 ml
In Stock
Eau de Parfum Sample 1 ml
In Stock
Description
The floral embrace of the delicate orange flowers flowing into the heady smoothness of tuberosis passes through the gently bitter bergamot to the velvety roses.
Delicious tangerines are warmed by a few drops of honey, releasing their juiciness into a creamy echo of woody plants, especially the softness of sandalwood. In the warm line, we continue into the vanilla tonka and the sensual touches of musk, which dissolves into a colorful flood of intoxicating frees, tenderly prosecuted by floral notes of lilac from a pleasantly showing velvety heliotrope.
The finish turns into citrus fruits, which are laid on white flowers, giving the impression of soap purity.

Customer Reviews (2)
Beautiful day of nice lady ... Thank you very much for another fragrant package. MY PERFUMES BADR is another soap delight, I really love those soap perfumes ... Thanks to you, I found myself in this and I feel beautiful every day. that you are and I look forward to perfumed ... (28.1.2020 - Aja J.)

Review: Very nice to me this perfume I surprised a fan of light floral scents.This perfume is distinctive but at the same time full of dominance and femininity. Price is a nice surprise. The bottle is beautiful and does not take up space in the purse. The smell holds all day long which is a big plus for dynamic busy ladies like me. Unfortunately, his fragrance is so intoxicating that my two daughters 9,11 years of age also use it. Thank you for this apt choice I recommend to ladies who want to be interested in their surroundings in the room. (12/19/2019 - Andrea S.)

Have you tried one of our perfumes?
Let us know
how you like it!
You might also like