Mumayz Black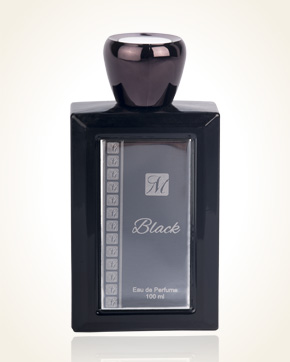 Mumayz Black
Eau de Parfum 100 ml
Out Of Stock
Eau de Parfum Sample 1 ml
Out Of Stock
Description
This fragrance is beautifully dark, untamed, captivating, simply - it's perfume with passion!
The introduction belongs to the deeply rich tones of earthy patchouli linked with the intoxication of sweet-smelling flowers. The composition continues with a smooth velvety ambergris, adding ylang-ylang and intense jasmine, which blends with citrus, which only lightly shows up to let the temptingly irritating oriental spices and gourmet chocolate pralines into their hypnotizing grandeur.
The irresistible play of charm comes with a luxurious black orchid, an exclusive powder vanilla, with a glamorous sandalwood immersed in a honey bath.
Enjoy the mystical tones of precious resins with the touch of incense and fruity and balsamic echoes in this elegant, sinfully seductive, completely unmistakable fragrance with great stamina.

Customer Reviews (6)
Mumayz Black - or me and incense "second time". Mumayz Black is a wonderful scent for me, and there's no doubt about it. But I had the wrong bottle and the smell could not "get out" to one hundred percent of my strength. A kind of "rush" of fragrant gems on the skin did not leave as long - lasting veil, as I expected. After addressing Ms. Lenka willing to "do something" with my sprayer, which he did not spray, I got a new bottle that sprayed perfectly. And smell? Only now have I discovered her in her full strength. The main actor of incense laughs at you in all its fragrance, it is like a mysterious beauty whose only eyes can be seen from under the storm. When she passes by, you know that there was nothing European about her. The diversity of the individual components gracefully completes the feature film "Mumayz Black". And in your head you get a movie cast - incense, a black orchid, something refreshing citrus, refined with vanilla. And you can only sigh ... I want Mumayz Black to be all my skin. (Sep 17, 2015 - Stana L.)

I ordered Mumayz Black blindly. Both my friend and I are taken away from this wonderfully composed scent. Small packaging is very practical. (Sep 9, 2015 - Alena V.)

Mumayz Black - Love. Amazing, expressive, nerdy & scaron, more sexy than my two favorite "orientals" from Opium 2009 and Shalimar edp, more distinctive than Habibi, "more creamy" than Al Sabria, the exact embodiment of my imagination. Mumayzy both are interesting - but exactly tailored is Black. So far I have never been able to determine which oil / perfume I like most at home - now I have a winner - a sweet, spicy, floral, dark, alluring Mumayz Black. Finally, I am glad that I took just this one, although they are all nice (23.5.2015 - Stana L.)

So even me, a complete layman, have run out of fragrance samples and I'm starting to evaluate. For me, who has only tried European perfumes so far, this is like a revelation because these fragrances are really developing and it seems to me that the fragrances are different every hour, but this Mumayaz Black is a blast. Beautiful woody fragrance, exactly what I love, not any sweet fragrance, just a manly fragrance. I already wish to win in sports so I can buy all that I like. Just a moment ago I could feel honey and chocolate, now even vanilla is coming out, just beautiful. (January 27, 2015 - Lubos I.)

... this was supposed to be a surprise for her husband for Christmas. But I like the smell so much, that's such beauty. A lot of spicy and woody, but with erotic charge, that it shatters :-) :-) :-) Originally this one should be for my husband and Mumayz White for me, but now I want both me ... :-) in such a smell I won't let him go to work ?! (12/16/2014 - Jana K.)

Mumayz Black - I was thinking for a while where I know the smell and behold - for all lovers (and lovers) Black Orchid by Tom Ford I have great news - for the price of 30 ml you get 100 ml of the same beautiful, exceptional and very similar scents. (10/28/2014 - Marta K.)

Have you tried one of our perfumes?
Let us know
how you like it!
You might also like