Afnan Modest Deux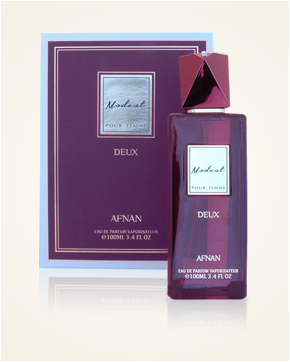 Afnan Modest Deux
Eau de Parfum 100 ml
Out Of Stock
Eau de Parfum Sample 1 ml
Out Of Stock
Description
Modest - this is a pair of captivating fragrances, masterfully composed ingredients of Afnan perfumes, it is also a visual experience of elegantly created perfume bottles with brilliant Swarovski crystal.
The crimson flacon hides the Modest Deux and the Royal Blue you will find the Modest Une.
Modest Deux

Fruity lure with raspberries, ripe strawberries and gourmet cherries, is directly in gourmet connection with cotton candy and delicious chocolate. The sweet wool is softened by the citrus freshness of juicy tangerines.
Warm caress of vanilla pods with spicy echoes of oriental spices are added. The whole composition is very seductive, attracting more and more fragrance.
We continue into the realm of richness of floral embrace, dominated by opulent gardenias, playing their game of refinement and charm. Touches of rare woods add depth at which sweetly herbal patchouli drowns. The conclusion is carried in the soft waves of pure musky musk.

Customer Reviews (4)
Modest Deux is a wonderful opulent composition for colder weather. The morning will lift my spirits and the day is nicer. It's beautiful. Made for upcoming dry days. (30.9.2019 - Simona O.)

Good evening, Mrs. Lenko, thank you again for your time and very pleasant presentation of your perfumes. Here are my impressions of the fragrances I took from you. Modest Deux is beautiful ...., sweetly hovering, unobtrusive, gentle cloud, Modest Une (which I almost refused at first) is gentle, but otherwise, citrus-powder, fresh, amazing ... (I must also have: Both, I found, just let it be easy to suspect that "somebody has passed this way" and the question remains ... "what is this amazing floating in the air?" These two scents are not really a mistake. .. Heritage Women and Noor al Shams Gold are both luxurious and elegant .... for me another "cockles".

Thank you very much for another perfume, today I picked up my dream perfume Prestige and Mrs. Jana "unfortunately" sprayed my wrist Modest Deux - it is about an hour and I still have my nose stuck to my wrist, so the smell is something beautiful, beautiful , malilinko maybe reminds me of my favorite Khutoot Al Hub, maybe the raspberries ... I'm blown away again and hovering. Aye, why not pay twice a month :-) I wish you wonderful summer days and write another tip for my Anabis wishlist. (04/08/2016 - Lenka G.)

Hello, Mrs. Lenko picked up Afnan Modest Deux today and it is a bomb.

Have you tried one of our perfumes?
Let us know
how you like it!
You might also like