Al Haramain Manar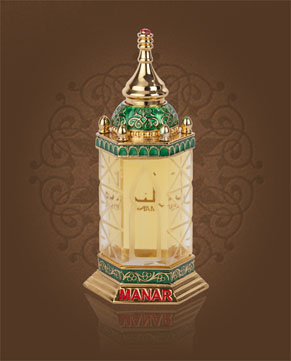 Al Haramain Manar
Concentrated Perfume Oil 45 ml
Out Of Stock
Concentrated Perfume Oil Sample 0.5 ml
Out Of Stock
Description
The combination of precious woods with lazy honey, hot-bitter-sweet caramel and balanced fruit tones will enchant and caress many of you.
Oriental spice embraces vanilla and velvety ambergris will enter the pleasant purity of musk spreading in a flower bed of roses, irises, lightly flickering jasmine and a full aroma of honey. The fragrant composition with its softness of ripe fruit permeated with vanilla, whose excessive sweetness is inhibited by lightly added oud essential oil creates an oriental, smoothly carried aroma.

Customer Reviews (2)
Manar Al Haramain cpo I ordered blindly, I expected another beautiful fragrance, but I could not imagine so beautiful. A beautiful bottle, thick oil, and in it full and fragrant incredible stamina. At first I feel juicy vanilla on a rich honey base, it starts to blend beautifully with delicate amber, which is not at all animal, but rather translucent, soft, smoky. Finally, light smoke is an integral part of the oil all the time. The emergence of sweet fruit with a dominant peach and only a lime is gradual, the honeycombs are full of thick honey, you can almost hear the buzz of bees in a sun-hot meadow full of flowers. At the end the fruit gives way to a sweet rose and rich freesia. The overall, really intoxicating and uplifting impression will be rounded off by a pinch of oud smoothed by musk. (03/07/2014 - Simona J.)

So I have no words those perfumes are incredibly beautiful MANAR - is an absolute jewel, flakonek is beautiful, at first it is very woody, then it smells, honey, caramel. The fragrance constantly changes into a pleasantly delicate aroma no fairy tale. (5/13/2014 - Veronika H.)

Have you tried one of our perfumes?
Let us know
how you like it!