Louis Cardin Gold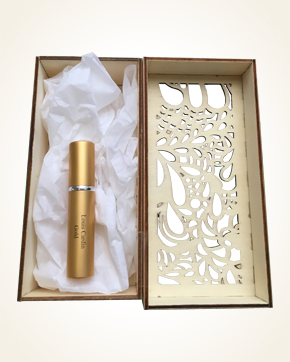 Louis Cardin Gold
Concentrated Perfume Oil 7 ml
In Stock
Concentrated Perfume Oil Sample 0.5 ml
In Stock
Description
Louis Cardin Gold perfume has earned you all - the absolute winner of the 2015 Oriental Perfume - which we now offer you in an amazing version of perfume oil.
Orange caress with warm, spicy spices, headed by vanilla, saffron and cloves, will attack your nostrils with the first drops of perfume. The sandalwood with a lightly set rose appears seductively.
Roses and orange blend together to create a pleasant connection, to which woody tones are added, and the perfume enters an elegantly powdered and softly sensual finish.
Compared to perfumed water, gold oil is more intense in the initial tones of citrus echoes and also has a deeper embrace of vanilla. The perfume is both seductive and gentle.

Customer Reviews (4)
Dear ladies and gentlemen in Anabis, thank you for the prompt processing of my order and Mrs. Carolina for your handwritten wishes. Louis Cardin Gold - perfume oil, beautifully feminine, powdered, delicate, intoxicating fragrance. At the beginning you can smell citrus, then come sandalwood with roses and delicate taste of vanilla. Stamina very good, simply beautiful and sensitively tuned Arabian fragrance. Thank you and have a nice and fragrant day like mine. Your satisfied customer (20/11/2019 - Gabriela K.)

Hello, thank you for the beautiful and especially fragrant package that came from you. You also used rollon boxes to unload and the boxes smelled so beautiful ... I know that Red Rose and Yaqoot from Khalis will be in the next order, it is always so happy to open your packages ... :-) Louis Cardin I have had Gold in a spray several times and now I bought it as an oil perfume in a gold bottle, that is beautiful, strong, smell goes everywhere with me and I feel very good with it. It responds well to temperature changes, some fragrances from you until winter I can not at all, because they remain somehow "closed" and in the summer are magical, but this does not apply to Gold. Tender "cannonade" of citrus with rose and sandalwood supplemented with saffron - just delicious cannonade powder charges :-) :-) and as it holds, unbelievable, that I take seriously twice a day and the smell is with me until the evening .. Thank you also for presents, Nebras I gave to my colleague at work and she likes it very much, she is looking at your pages too :-) (23.1.2018 - Zdenka Ř.)

Hello, it's true that I was a little worried about Louis Cardin Gold - but oddly enough, I don't have a rose that I don't carry or bother very well - it has a really balanced composition, even if it's more feminine and I don't normally use these scents - I'm a more sporty type and such a more refined and moderate "ram" according to the horoscope - not a vigorous ram general :-). For winter, however, I find this fragrance appropriate, although it is feminine, but at the same time gentle and unobtrusive, positive. I was intrigued by how the scents work on the skin during the day, and certain ingredients emerge - depending on the PH of the skin and the composition of sweat and skin moisture - as if the colors of the rainbow alternate and are certainly addictive, but pleasant. I used to smell that in the beginning it was intense and then it faded to a certain unchangeable form and lost. Oil smell really works and changes its shades throughout the day, is not dull and has a stamina. Surprisingly, the most suitable of the samples is Afnan Musk Abiyad - although he has a rose again, but I have a problem with the beginning of the smell, it is strong enough for me and has to run a lot. Have a nice time and be happy, as yet. Have a nice day. (12/30/2017 - Jitka A.)

Hello to Anabis, it won't let me share the scents that ended up on my perfume shelf anyway. For the test, I took Louis Cardin Gold in cpo in 7 ml in a gold purse bottle with a tiny gray application ball, when this scent completely fooled me. And not only me. Because I went with her to the perfume immediately, where I met a friend of a painter (83 years) and she was also enchanted and instead of greeting me, she said: "wow - this is a beautiful smell, please order me now". So I ordered a third time. - one LCG oil for the painter and one, actually the third for me - the ground squirrel - in stock. I took the second pack after I first tested LCG at the cpo when I took the rest of the EDP + Body Spray "kit". And a body spray because its consistency is totally acrid, no artificial like in Europe, but a smooth and very pleasant consistency for the skin. How does Louis Cardin Gold smell? Wonderfully, its typically Arabic ingredients - rose, sandalwood, saffron, make sure that the aroma smells both non-Arabic and Arabic at the same time. The result is a round, smooth, wood-powdery fragrance with a prolonged endurance and going into space. Men and women of all ages also like the scent. (16/06/2017 - Sylva F.)

Have you tried one of our perfumes?
Let us know
how you like it!
You might also like