Al Haramain Lamsa Gold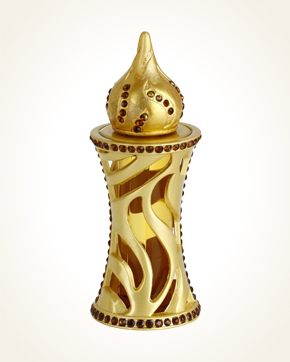 Al Haramain Lamsa Gold
Concentrated Perfume Oil 12 ml
In Stock
Concentrated Perfume Oil Sample 0.5 ml
In Stock
Description
The golden bottle of Al Haramain's Lamsa perfume pair conceals a slightly sweet, fruity fragrance.
At the beginning, fruit tones, represented by sweet strawberry, ripe apricot and peach, will play their game. The fruit with its juiciness is fully immersed in vanilla and sandalwood. Ripe apple and dark-colored grapes are enchanted by the velvety honey comb. Roses and white flowers are added to gently show their strength. The conclusion is the sensuality of the soft musk.

Customer Reviews (6)
Al Haramain Lamsa Gold - a fabulously magical vanilla treat and a musky silk tenderness, subtly complemented by apricots and peaches ... powdered velvety ... beauty ... intoxication ... cuddly perfume vanilla along with edible yummy vanilla ... very but really very delightfully sweet ... tender as a puff of fragrance that gently smelled of top-quality perfumery .. and then to change from a confectionery that is filled with sweet cakes with cream, butter and vanilla cream ... here and there maybe even some coconut shavings ... gourmet concert ......... Have a nice day, now in the evening, Mrs. Lenka and Mrs. Jana and everyone in the fabulously fragrant Anabis .. :-) PS next song more observations ...; -) (3/20/2019 - Romana V.)

I also ran out of the LAMSA GOLD formula and again it's the edible vanilla I love, so it will probably be next. Vanilla fragrances I can, but only the Arabic, it's completely different than perfumes in our country. This one is tinged with fruit and again very nice and pleasant. Thank you and have a nice time. (2/21/2018 - Lenka G.)

Lamsa Gold welcomed me into the world of dreaming with a cup of vanilla cream with juicy peaches and wild strawberries. After a while the oil began to work, vanilla dusted and fluffy musk with a gentle whiff of sandalwood drove me far away ... I remember Lamsu Gold from the time I got to know your perfumes and my wish list was so long that got it, was down, so I'm so glad that I have the honor to try it. It is beautiful and vanilla vanilla. Anyone who likes vanilla must love it !!! Thank you for it, the next order will not miss! (04/01/2018 - Lenka S.)

Lamsa Gold - Liquid vanilla flows between your fingers. Grab your stalk, for you will drown in velvet silk. It takes air from space. After a few hours, she will soften her musk. Although you can find other ingredients in its composition - I dominate VANILKA, sweet, smooth senses. A little choking unprepared. When a new note is picked up somewhere, unidentifiable, it just brought a little wind and softened the breath-stealing stuff ... And here it is. Hmm. Devils in warm hell grew light angel wings? (Sep 17, 2015 - Stana L.)

Lamsa Gold cpo is warm vanilla, soft, smooth, soothing, with the scent of burning incense sticks, a bit of mandarin, baked apples and cinnamon. Above all is a sweet rose with a hint of jasmine. The fruit acts as a vanilla sweetened thick marmalade, with the addition of fluffy whipped cream. The fragrance is pure, tender, crystal clear summer Christmas, from the summer it takes the generosity of fruit, Christmas time spices and beautiful vanilla. (03/07/2014 - Simona J.)

Lamsa Gold - I like it, sweet, vanilla, plus fruits and almond meringues, something from Royal Gold and Cara. Fluffy almond meringues, light cotton candy and a beautiful vanilla vanilla. Angelic caress… (she will like her husband :-)) (May 1, 2014 - Renée H.)

Have you tried one of our perfumes?
Let us know
how you like it!
You might also like