Khalis Saqr Al Emarat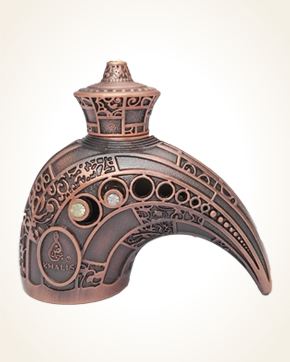 Khalis Saqr Al Emarat
Concentrated Perfume Oil 20 ml
In Stock
Concentrated Perfume Oil 0.5 ml Sample
In Stock
Description
The unique design of the Saqr Al Emarat flacon, reminiscent of the royal falcon's head, conceals a very luxuriously composed scent - full of the desert heat, full of delicious fruit, full of the secrets of the Oriental soul.
Indomitable seduction is the first drop of perfume, which makes the intoxicating aria of fruit dominated by apple, pure puree of juicy ripe fruit. The freshness of lemons and tangerines melts in the sugar wave with a gentle cloud of fragrant basil and a thickly stretched caramel.
Gourmet lure of vanilla pods takes cedar wood with oriental spices. In the echoes of cardamom hides a sweetly scented pink geranium with the delicate beauty of white roses, which are in a fluffy sensual embrace of white musk.
Irresistible charm with elegance plays in the final parade white oud oil, whose soft and soft sounding tones caress and deepen the smell.

Customer Reviews (8)
KHALIS SAQR AL EMARAT - both flacon, packaging and smell took my breath away, it is really a treasure, I have no words ... (9.2.2018 - Lenka G.)

Greetings to Mr. Lenka and Mr. Jana :-), and thank you very late for the package and for many fragrant gifts .... And I must say that you got me again. Khalis Saqr Al Emarat - beautiful, although a little heavier for me, but not yet ... it is so changeable ... the first smell wonderfully sweet, although strongly but so seductively erotic ... and the next smell amazing cleanliness gently sweetish flavor of honey and vanilla and a very tiny half-lemon lemon ... and this is how mischievous it confuses me and plays with my sense of smell ..... It reminds me a bit distantly of NESMA, which I had only in the formula at that time. In my opinion, this is a more subtle and lighter version of Saqr Al Emarat. (07/02/2018 - Romana V.)

I originally had Saqr Al Emarat as a present for my daughter, but when I tried the vanilla oriental treasure, I struggle a lot not to keep it. This is Mrs. Vanilla, who takes only a light accompaniment of spice for a walk, let's run through tangerine, but not much space. It's vanilla vanilla with woody plants, such a strange feeling, I know it - but no and not to remember. Your perfumes are a trap - just as the lady under me says ... but beautiful. Thank you and have a nice day to all of you (23.1.2018 - Zdenka Ř.)

Hello, Mrs. Lenko, I wholeheartedly thank you for delivering jewelry from your kingdom. Thank you for the vanilla king falcon Saqr Al Emarat, who is divine .... and of course other perfumes are amazing for gifts ... as soon as I have time to write reviews. Greetings to the fairy queen and the whole magical Anabis. Your Forever (16.11.2017 - Milena P.)

Beautiful day to Anabis, yesterday I had the opportunity to try the news in your magical kingdom and I'm excited, almost all are amazing. Can't reach next. Today I enjoy a day off, wrapped in a blanket with tea and enjoying the samples. Clearly, KHALIS SAQR AL EMARAT leads - this is a touch of luxury, my beloved Arabic vanilla, soft yet rich. In some ways it replaces the already unavailable Leyla, which was my darling. Thank you and have a wonderful day. (10/28/2017 - Lenka G.)

Hello Mrs. Lenko, I read reviews of another caught woman, trapped in your perfume. And this at Saqr Al Emarat - is amazing !! I thought I would have 4 samples and enough! No, I already have the whole package at home, really beautiful. (10/21/2017 - Jarka N.)

Saqr Al Emarat - breathtaking, magnificent, addicting. I love perfumes with vanilla, if I can compare, so Serge Lutens Un Bois Vanille, is a touch of innocence in your Leyla is a lot of vanilla caress, it radiates peace and quiet (will still be, I miss it), here shows taming of Oriental essential oils, accurately portrayed - the heat of the desert and mystery. Vanilla hides, excelent fruit shades, woody plants, it is as if out of focus, and after about half an hour comes a creamy, dense, sometimes even dusty - beautiful vanilla trace, which completely penetrated me in perfume, it is very intense feeling. Vanilla retains the character of an oriental fragrance that blends and blends with wood, perhaps even oud, that elevates everything into a masterpiece. In places, it reminds of the decadence of vanilla in Creed Sublime Vanille, or the brilliantly served vanilla from Guerlain in Shalimar Ode à la Vanille. Another thing that attracts perfume is definitely a flacon, not overcrowded oriental wannabe luxury, I like its processing, although I do not see the falcon in it very much :-) Again, I look forward to another batch of fragrant treasures in my collection. Yours sincerely (18.10.2017 - Jana B.)

Hello, I received an order today and will not let you write. They are real treasures :-) SAQR AL EMARAT - amazing, addicting, unique. For me as a drug I love sweet smells :-D. I'm just sorry I didn't know about you before. Certainly I will order again and again and again. Have a nice day (17.5.2017 - Veronika I.)

Have you tried one of our perfumes?
Let us know
how you like it!
You might also like