Khalis Musk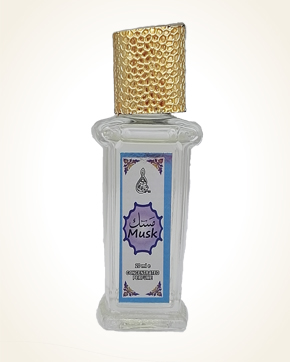 Khalis Musk
Concentrated Perfume Oil 20 ml
Out Of Stock
Concentrated Perfume Oil 0.5 ml Sample
Out Of Stock
Description
Musk fragrance as gentle as a breeze, musk fragrance as soft as a lip gloss, musk fragrance as light as a puff of freshly washed linen - this is the Musk fragrance by Khalis.
Another silky caress of musk fragrance is ready to enchant this tenderness and softness at the same time. The fragrance is in a small flacon, which has a cap closure after opening the lid closed with a plug. Inside the box is a roll-on ball that you put before the first use in the neck bottle.

Customer Reviews (9)
Hello, I'm absolutely blown away by this perfume, today I run out of his sample. I would call it the scent of heaven and exactly what I have been looking for long - the scent of quality soap. I would like to ask you if it is possible that you will ever get this perfume again, or if there are other perfumes with similar esprit of light and purity in your offer. Yours sincerely and thanks for your answer (24/02/2020 - Jana H.)

Good day. I want to thank you for express delivery of my orders.And the gifts you always pack. My wife is on a musk. For a long time I was looking for and ordering perfumes containing musk from various stores. When I succeeded.Ked read comments on the various fragrances and oils always have a problem, she would like to try each of them. Thank you again. Yours sincerely (03/12/2018 - Rudolf A.)

Dear Sirs, I cannot but praise the Anabis team again. I ordered the fragrances and arrived in a flash. I really like Khalis Musk, a handy bottle with a ball that fits in her purse. This scent is musky and slightly sweet. Some musk don't suit me because they have a bitter ground. This fragrance will go on holiday with me and I will enjoy it. Have a nice summer to all fans of Anabis. (6/29/2018 - Gabriela V.)

Hello to Anabis - thank you, a cloud of foggy strokes, this is such a tenderness, it is nothing like that. I found a light smell that holds and smells and is absolutely breathtaking. I work in health care, so I can't have an intense fragrance to work, but Musalis from Khalis is like a tender air of perfume. Thank you very much. (4/25/2018 - Alena K.)

Khalis Musk - softness, tenderness, purity ... Musk Al Aroosah charmed me most of the musk musk and still holds the first place. Musk is much more subtle, even so subtle, that at times I had something to do to capture his scent. She's like a puff ... (3/8/2018 - Lenka S.)

Have a nice day to Anabis :-) this week I picked up some samples of some new products and today a load of new perfumes. I would like to thank (for several times) for such wonderful fragrances that you carry for us. KHALIS MUSK is exactly as soft as I expected, velvety, creamy .. (9.2.2018 - Lenka G.)

KHALIS MUSK I have no words ... powder case from 60 years, beautiful, tender, unobtrusive. Even my boy who doesn't like it when I smell anything, this time is ecstatic. He constantly rubs against me, wants to cuddle and licks the places on my hand where I apply this fragrant miracle. We already smell the same :-). (1/22/2018 - Rena K.)

So as the lady writes ... Musk from Khalis does not sound creamy, I would like to bathe in it, is beautiful powder ... thank you also for the gift, pleased ... nice day (6.10.2017 - Jana C.)

Hello and send a big thank you. It's small, but not too much, just worn in a purse. Musalis from Khalis has been a real success. As beaten by Romana Naseem Musk Abyad, so do I have to do this one from Khalis - for me it is a bit creamer and a drop more tender. It may just be a drop, but I feel more creamy, which I like in musk fragrances. It is like a powder, or as a lip balm, I would just drink it and bathe in it :-) Thank you and a nice weekend in Brno (22.9.2017 - Pavlína F.)

Have you tried one of our perfumes?
Let us know
how you like it!
You might also like