Khalis Mukhalath Naeem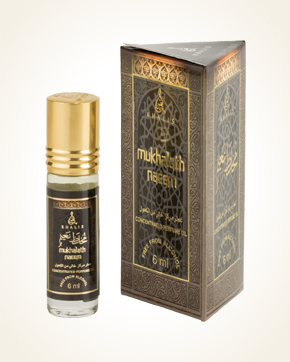 Khalis Mukhalath Naeem
Concentrated Perfume Oil 6 ml
Out Of Stock
Concentrated Perfume Oil Sample 0.5 ml
Out Of Stock
Description
A pocket pack of oriental perfume, the big advantage of which is the small size (6 ml of perfume), so it fits in the smallest purse or pocket. In addition, perfume is very easy to apply using a ball in the bottle cap. So you can always have your favorite fragrance with you.
Honey bath in its gourmet key attracts rare woods, led by oud oil supplemented with velvet amber. Their interconnection highlights the mystery of the oud in its warm chords. A slight caress adds a few fruit keys.

Customer Reviews (5)
Mukhalath Naeem, I have caught the last bit, and indeed the smell is very similar to another Arab love from the early days of Anabis - cpo Rawan from Asgharali - I have long ceased to cease production. Mukhalath Naeem has the same magical attraction in it due to sandalwood and carnation cloves. (In today's European concept I can calmly associate it with the fragrance of Layla from the Italian brand Kemi, which is an offshoot of Xerjoff. Layla is edp, therefore lighter, for that Mukhalath Naeem thanks to cpo concentration, which is equivalent to pure perfume or today's extrait is obviously denser, stronger and more pronounced). I have to keep an eye on the next stock, even if the 6 ml roll-on is for a long time. However, it is also very addictive ... continue next time for other pieces I wish you a wonderful summer in Anabis and please greet Lenka Your dependent and returning customer (July 9, 2019 - Sylva F.)

Hello, I just received the goods from you that I ordered yesterday afternoon, so you did not disappoint with speed again. , I am very happy for her and I feel with her like in heaven ..., thank you for two gifts that I have to sniff: o) your loyal customer (August 1, 2018 - Hanka J.)

Khalis Mukhalat Naeem - I have already bought a few "oudovky" and mostly donated them mainly to the male part of the family where they reaped success - it was not for me. This fragrance is an exception - I definitely won't give it to anyone. Although it deviates completely from most of my favorite perfumes and these are sweet-tuned flower-musk creams. This fragrance is really very oriental, but wonderful! It is dominated by the delicate aroma of honey, but the aroma is by no means sweetened; Oud and roses are wonderful to feel too, but everything is so perfectly coordinated that the smell literally "dear" and yet it is a few ducks. Even my husband likes it very much and said - "I'll keep it here" - no, but sometimes I lend it to him - not to say. Typical unisex fragrance. I like Swiss Arabian - Barq, but I like it much more. Who likes heavier, typically oriental fragrances - I recommend. (7/27/2015 - Jirina K.)

Khalis - Mukhalat Naeem: another wonderful fragrance that is hard to describe. I can't exactly extract what intrigued me, but probably nothing specific. Maybe a mixture of oud, rose and honey. It looks amazing as a whole from start to finish. It is distinctive and gentle at the same time. I have never encountered such a scent. (June 18, 2015 - Renata Š.)

Khalis Mukhalath Naeem: Resin in the sun. Ever since I smelled at the Mukhalath Naeem, it has reminded me of trying to heat various aromatic resins in the aroma lamp as they melted, and in a moment their aroma filled the entire room. But here the sun's rays burn the resin instead of the candle. It is perfectly complemented by other ingredients such as golden ambergris, rare woods, delicate oud and flowers, especially roses. Despite the melting resin and the oud scent, it does not give a charmed or smoky impression. The aroma is velvety, sweet and somewhat addictive - you can't stop smelling it and say "Oh, she's beautiful."

Have you tried one of our perfumes?
Let us know
how you like it!
You might also like