Estevia Parfum Her Excellency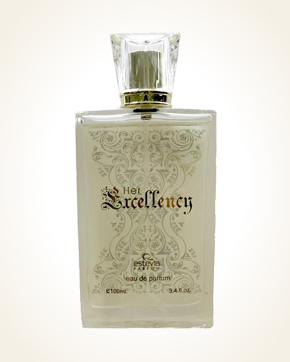 Estevia Parfum Her Excellency
Eau de Parfum 100 ml
In Stock
Eau de Parfum Sample 1 ml
In Stock
Description
The duo of Excellency fragrances, we are introducing a new brand of perfume manufacturers - Estevia Parfum.
Dubai Royalty Collection consists of 4 perfumes, we bring you the first two of them. Gold-white fragrance pack is designed for women and in black-silver flacon is hidden men's fragrance.
Her Excellency is a soft, powdery and fluffy fragrance full of tenderness.
The opulent onset of the sweet magnolia is restrained by the fresh watermelon and the temptingly showing ripe cherries, to which is added another fruity arms, in the form of an exotic pomegranate with pineapple supplemented with rosemary leaves.
Powder ylang and sweet gardenia take a bath in the tender musk dusted with sensual vanilla
In a deliciously sounding finish, the juicy citruses combine with soft woody tones and just behind the curtain of hidden moss and animal skin tones.

Customer Reviews (3)
Greetings to you Mrs. Lenko and your whole fragrant Anabis: -) ... I am still your loyal customer :-) Her Excellency - so it is also an explosion of tenderly sweet purity .... beauty seducing constantly sniffing ... so you give me ... I'd really endure doing nothing all day and just sucking up the splendor of your captivating and very addictive fragrant drugs with gentle songs .... oh yeah ... time please stop for a moment .... .... about after an hour of application I have to add that it is really a very magical variable scent ... I feel there still raspberry vitacit lightly powdered .... (12/07/2017 - Romana V.)

I opened Her Excellency perfume on Christmas. It is fabulously beautiful, really very gentle, powdered, flower-fruit puff ... exactly what I wanted now. Mrs. Lenko, I wish you a happy and successful 2017! (12/27/2016 - Renata K.)

Good evening to all of you dear Anabis! I couldn't stand and unpack it, Her Excellency is so tender, but rich, pleasant, beautiful .. the white bouquet is big and strong, but the fruity tones are moderate, it is smooth, even powder. Seriously, like ... well-being, like when your husband tells you, you have a new scent? you smell nice ... it's it ... powder, so I would call it, powder stroking ... :-) I wish many happy customers, I like to come back! (12/1/2016 - Hanka C.)

Have you tried one of our perfumes?
Let us know
how you like it!
You might also like