Hamil Al Musk Dua Al Jannah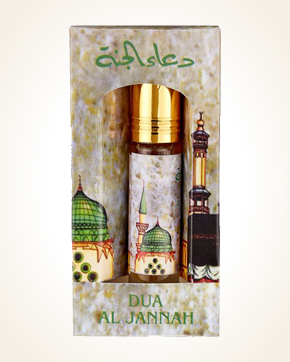 Hamil Al Musk Dua Al Jannah
Concentrated Perfume Oil 8 ml
Out Of Stock
Concentrated Perfume Oil Sample 0.5 ml
Out Of Stock
Description
Dua Al Jannah is an intensely sweet, fruity oriental perfume.
Woody mysterious oud oil in captivity of exotic fruit gives the aroma a spicy oriental tone. Melange of ripe bananas, mangoes and melons attracts into its gourmet chords and just as if a few floral tones are added behind the curtain.
The end is vanilla with dark chocolate, which lazily lays in the honey soft velvet amber bed.
A pocket pack of oriental perfume, the big advantage of which is the small size (8 ml of perfume) so that it fits even the smallest handbag or pocket. In addition, perfume is very easy to apply using a ball in the bottle cap. So you can always have your favorite fragrance with you.

Customer Reviews (5)
Dua al Jannah - I would describe this sweet smell simply - Pedro chewing gum :-) I like it! Maybe I will not be dismissed by wasps ... :-) (18/09/2018 - Žaneta B.)

Surrati Dua - hmmm ... so this is the sweet beauty of "par excelance". Imagine a bowl full of fruit - fresh, ripe, juicy ... Sweet juice runs down your mouth ... To keep that sweet, the bowl is covered with vanilla sugar and hoooodo hoooodo honey. The honey phase is delicate. But it is not a sticky scent, rather a mysteriously deeply dreamy. Those sweetly fruity "Arabs" are just to eat .. (27.8.2018 - Helena W.)

Dua al Jannah perfume is so amazing, I'm totally in love with it :). His strength and stamina are unsurpassed. (February 26, 2012 - Tereza Š.))

Today I opened the package carefully, pomáááááluuu, with a religious ritual. I just enjoyed it, all the perfumes, but beautiful, I again gave you a reward ... I just smelled wounds, the bomb itself, the other I have religiously sniffed. Now I couldn't stand it anymore, so I tried Dua Al Jannah, who surprised me a lot with his strength and unbelievable stamina. (January 26, 2012 - Marie Š.)

Hello, yesterday came to you perfume Du Al Jannah and I am fully kidnapped, it is a wonderful smell. I hope you will soon receive a bigger pack :). Thank you for the quick delivery and goodbye. Krasny den (June 22, 2011 - Tereza Š.)

Have you tried one of our perfumes?
Let us know
how you like it!
You might also like