Nabeel Haifa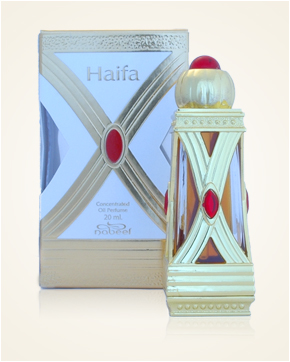 Nabeel Haifa
Concentrated Perfume Oil 20 ml
Out Of Stock
Concentrated Perfume Oil Sample 0.5 ml
Out Of Stock
Description
Warm, seductive, intoxicating - this is the passionate scent of Haifa perfume.
The captivatingly irrepressible combination of lazy honey and rare oud oil, which develops here into warm-sounding notes, suggests a soft scent that binds and releases.
Rare woods intertwined with a rose and a tenderly delicate violet twist into a mysterious echo of incense. Vanilla shows its dust chord, which is fully resounded in a duo with balsamic keys, slightly complemented by oriental spices.

Customer Reviews (3)
Beautiful good evening, HAIFA - also very good perfume is to smell oud, which I love, oriental spices, vanilla, violets no beauty Moooc thank you for oriental beauties (2.3.2017 - Veronika H.)

Haifa - I just bought it blindly according to the composition, I like oud smells. Oud dominates, but in a very pleasant form with ambergris and flowers. Elegant, beautiful, year-round, gently but lasting. (12/13/2016 - Simona J.)

Haifa is a glamorous splendor that rang my bell at the gate on Friday, along with other fragrances. It is a warm, warm, honey-like soft aroma, enriched with balsamic tones, oud and gently complemented by oriental spices. Unbelievable stamina. (Aug 30, 2016 - Miloslava P.)

Have you tried one of our perfumes?
Let us know
how you like it!
You might also like