Estevia Parfum Oud Al Romansi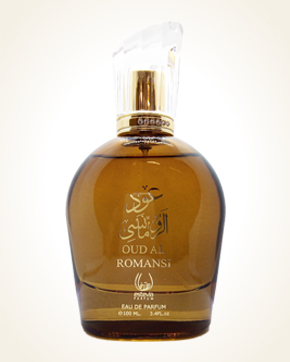 Estevia Parfum Oud Al Romansi
Eau de Parfum 100 ml
Out Of Stock
Eau de Parfum Sample 1 ml
In Stock
Description
The irritating blend of fruity tones with oud oil shows a gourmet, oriental perfume full of enticing corners.
The introductory fragrance sentence belongs to delicious blackberries in a harmonious combination with dark ripe, wild strawberries and candied peel of citrus, which winds through a mysterious, mystic-embedded, oud oil.
Gourmet fruit is complemented by a sinfully seductive chocolate praline with vanilla cream and a rich fragrance of royal roses, whose velvety fragrance is full-bodied.
The trees show their smooth wave, in which the herbaceous earth patchouli dissolves in the undertones of spicy sweetness, which is successfully followed by honey smoothness, smoothly majestic ambergris.

Customer Reviews (1)
Super gourmet with (not only) chocolate touch, this is Oud al Romansi (Estevia Parfum). Those who try will not overlook. Really great. (12/10/2019 - Pavla F.)

Have you tried one of our perfumes?
Let us know
how you like it!
You might also like