Ajmal Bling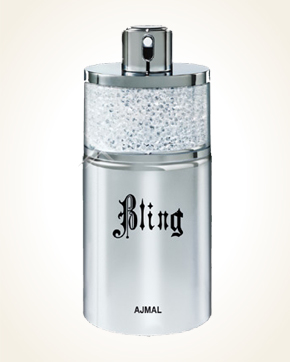 Ajmal Bling
Eau de Parfum 75 ml
Out Of Stock
Eau de Parfum Sample 1 ml
In Stock
Description
Shimmering beauty radiating shine in all its forms, hidden in a silver bottle with Swarovski crystals, attracts you to its irritating snare.
The first fragrance speaks to you very richly served rose blending in its heady tones with trees. The brilliant blend of oriental spice in front of cinnamon with patchouli creates an intense fragrance that smells wherever you go. It leaves behind an orientally tuned track that is undoubtedly a sign of your exclusive perfume choice.
Tones of aromatic resin made of guayac wood with its slightly charming warm scent of vanilla and sandalwood give the perfume a pleasant depth. Musk opens another of the beautiful scent changes that will be with you with its long-lasting intensity throughout the day.

Customer Reviews (1)
Have a nice morning in Brno. Bling perfume formula got me, it's a wonderful combination of rose and oudika, cinnamon I feel only lightly. It's really another treasure. Now I wonder if to buy shoes or perfume .. :-) (12/1/2016 - Jana Š.)

Have you tried one of our perfumes?
Let us know
how you like it!
You might also like