Al Rehab Blanc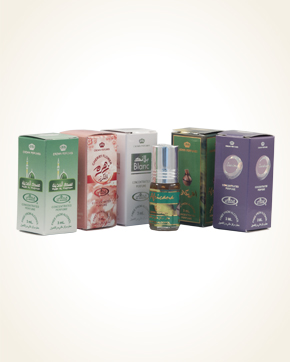 Al Rehab Blanc
Concentrated Perfume Oil 3 ml
Out Of Stock
Description
A pocket pack of oriental perfume, the big advantage of which is the small size (3 ml of perfume) so that it fits even the smallest handbag or pocket. In addition, perfume is very easy to apply using a ball in the bottle cap. So you can always have your favorite fragrance with you.
Juicy citrus, headed with lime, blend with cedar wood to create a pleasantly fresh scent. Add musk gently to smooth out the excess prickles of the cistrus. Fine floral notes and grasses can also be felt as the fragrance develops. The smell will appeal to both men and women.

Customer Reviews (2)
Reviews of fragrances from our blind client, Miss Petra ... here I feel a lot of grass and lemons. It is very pleasant in summer and I like it very much, it is very fresh. When I smell, I always imagine a bowl with sliced citrus. It lasts a long time and can be taken anywhere with its little thing and I can always carry it with me. (March 6, 2014 - Petra Š.)

A small rollon and yet a big surprise in the form of a decent, unusual fresh perfume. Charmed me, the little bottle had the power to turn inside out and my not-so-warm approach to this type of fragrance. Enchantment begins with the image of a basket of citrus, from which rises the pleasant aroma of delicate but distinctive lemons and sweet-bitter grapefruit intertwining into a smooth, velvety line. The sleek smoothness is brought to the top by adding a tiny sprig of mint to accentuate the fresh whiff and take away the sparkle so subtly that I, I don't know, trapped by an invisible net. I let myself rock gently in the waves of pleasant intoxication, and at this very moment it strumps on the string of seduction at the bottom of the basket, under a bouquet torn in a summer meadow, hidden by musk. With ease, the feather embraces the citrus and clings to me like a soft, freshly sweet delicate duvet. And fluffy dazzling continues with even greater intensity… (19/12/2013 - Andrea Ž.)

Have you tried one of our perfumes?
Let us know
how you like it!
You might also like