Surrati Attar White Musk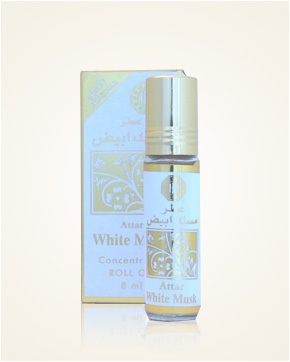 Surrati Attar White Musk
Concentrated Perfume Oil 8 ml
Out Of Stock
Description
Oriental perfume bag. Its advantage is its small size (8 ml of perfume oil) - so it fits in a small handbag. In addition, perfume is very easy to apply using a ball in the bottle cap. So you can always have your favorite fragrance with you.
Musk fragrance with a little floral tones and bitter sweet woods dominated by sandalwood.
Special discount - damaged boxes, perfumed. The aroma content is about 85%.

Customer Reviews (2)
Attar White Musk - another wonderful musk fragrance with sandalwood and flowers.Flowers feel just a little, but sandalwood and musk are magicians who have created such a wonderful delicate fragrance. It is different from Al Rehab's White Musk. Nádhera.Thank Mrs. Lenka for such a beautiful smell, without which I will not take a step. Thank you for the presents you give to each order. Yours (29.6.2016 - Milena P.)

Attar White Musk..I am immediately interested in the news and this trifle..combination of sandalwood and musk, this normally will not get. Santala fragrance even acts as an aphrodisiac, cures respiratory diseases, etc. .... as I mentioned in one of the previous reviews, I like to alternate and combine perfumes according to mood and seasons and this perfume for me is a gem in combination, although simple, but beautiful.Floral tones in it almost invisible, I perceive purely the combination of sandalwood and musk.This perfume I save just for those dry autumn and winter days and evenings , then there is no room to smell a room with an aroma lamp, yourself this jewel and under a enjoy tea relax :-) .. it will be a drift :-) .. thank you again Mrs. Lenko again for a quick delivery of the shipment, for a fragrant gift and sweet milk, again it all tuned to the right pleasant wave. (21/06/2016 - Irena Č.)

Have you tried one of our perfumes?
Let us know
how you like it!
You might also like